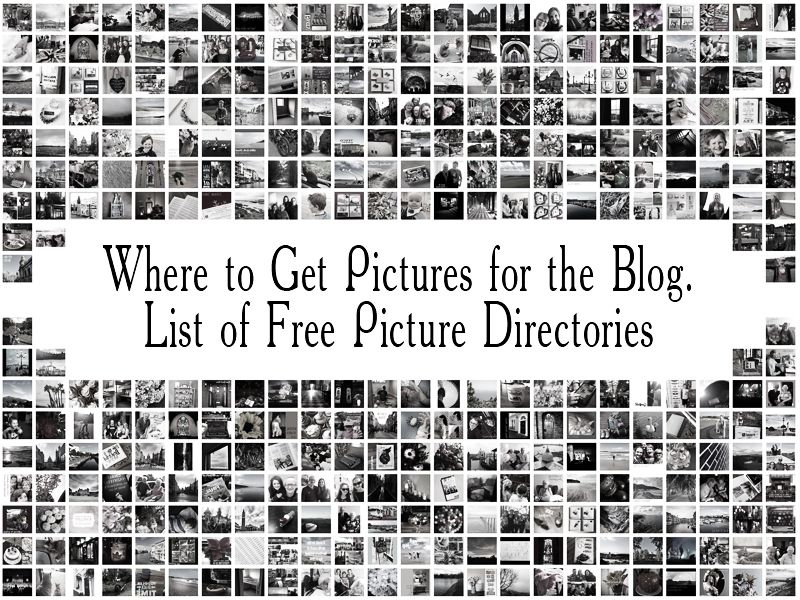 Where to get free blog images. List of free picture directories
We all like visual examples and illustrations when we read any kind of articles. Since childhood, we have been looking for pictures in books (many still do today). When we were kids, the pictures and paintings were the purpose of taking a book in our hands. Today, illustrations help us better understand what the text communicates. It also helps us create shortcuts in our memory through which we can quickly return to the information we have once read. In blogging, illustrations are no less important than in any other kind of means of information. The question that remains today is where to get free blog images that would be attractive for visitors? If you have ever run a blog, you understand how frustrating it is to find good quality images to be used for articles. More than that, the search of a decent image often takes as much time as writing the article itself. We hope the list of picture directories given below will help rid of this headache.
Getting Good Pictures for Your Blog
Both personal and professional blogs need images. No matter what is the purpose of blogging, your web pages should be illustrative (that is contain the images that illustrate the message you are communicating in your text). Fortunately, there are some websites that provide copyright free images that could be used for business or personal purposes. One must be careful though because many websites offer both free images for commercial use while other contain pictures that are ineligible for business use. So before downloading and using the image, one has to read and understand all terms and regulations. Here is the list of picture directories that contain copyright free images:
Flickr. This may be one of the most popular places to go to if you are looking for free blog images. Their database is quite extensive containing millions of images. The advanced search should help you find exactly what you need for your articles.
Pixabay. This website contains tons of creative pictures all of which are free. Besides, it also has one of the best internal image search engines compared to other free picture directories.
Wikimedia. 17+ million pictures. Despite the extensive database of images, there are a lot of those that don't seem like professional shots at all. So you might need to spend here more time on finding what you actually need (that stands true for many free picture archives).
Microsoft Office. Now we are sure you didn't see that coming. But this is actually true – MS gives away a useful blend of images you can surely use for your blogging. Be sure to check the terms of use though, there are several things you may want to know before downloading the images that you need.
Stock.xchng. We couldn't go past this one. It is one of the most popular picture directories after all. The database contains about 400,000 pictures. Pay special attention to where you click as the website has multiple links leading to other picture directories.
Public Domain Archive. This is the website offering completely free images both for personal and commercial use so if you are looking for free blog images this one should work just fine for you. You don't have to put any links or add attribution to the authorship of the images so this is very convenient.
Free Range Stock. You need to sign up first in order to get images for your blog from here. However, the website offers great high resolution images for free so it is worth taking time to register at the website.
Gratisography. This resource isn't that popular but this picture directory contains a lot of great pictures all of which are taken by Ryan McGuire. You can use the images both for personal and commercial use absolutely free of charge.
Foodie's Feed. This particular website offers high resolution food images. Sooner or later you will probably need one of those so it is good to know where you can get copyright free images about food even if you don't run a cuisine blog. There are so many Illustrations with food one can make after all.