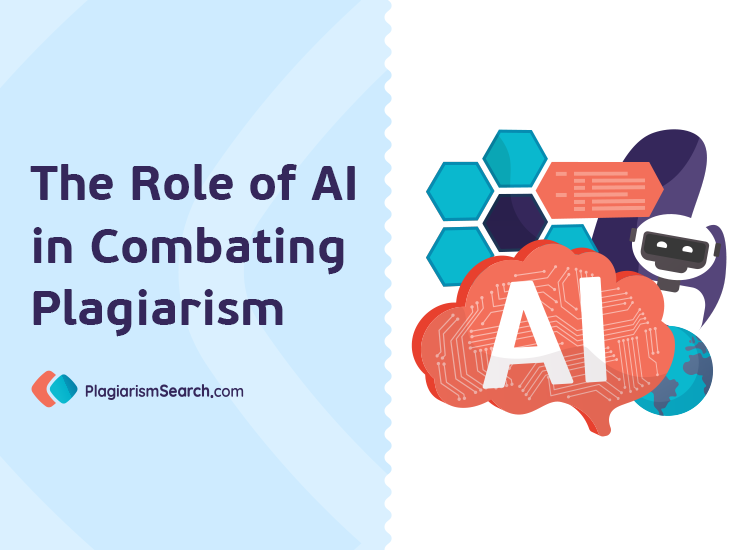 How AI Makes Progress in Addressing Plagiarism
What can be more innovative in the sphere of writing than the use of artificial intelligence? Nevertheless, let's start discussing their role with the greatest paradox. AI tools can be a source of new type of plagiarism that universities and colleges all around the world are trying to combat, but at the same time they can be great helpers in plagiarism detection. That is a double-edged sword, isn't it? An AI plagiarism checker sees whether the writer copied from any sources but at the same time it indicates whether Chat GPT or any other tool was the actual author of the text. Without actual stealing of content as it was the case with traditional plagiarism, crediting the AI-generated content as one's own is still plagiarism as it is. With the arrival of numerous powerful tools of actual plagiarizing and a lot of submissions of automatically generated content, it is high time to fight back at a new level.
Innovative AI-Driven Solutions in the Area of Plagiarism Detection
The sphere of plagiarism detection cannot be stable as it requires new approaches and solutions all the time. As students and researchers can be really inventive in developing new types of cheating, the tools for checking their writing should be really sophisticated, especially now in the era of AI innovations. Thus, the writing industry and educational institutions have been waiting for revolutionary changes and here they are!
Challenges of Conventional Plagiarism Detection Methods
The sector of education has been struggling with the students eager to use the work of others without proper attribution which is really easy with access to the Internet resources for dozens of years. Now, even without traditional discrepancies, texts can be plagiarized as their origin is artificial. It became really crucial to bring all that to an end and get an effective tool that can address the issues and help in differentiating between truly original pieces of writing and borrowed texts.
What are the most traditional methods of plagiarism detection?
Manual scanning of the text.
It is the oldest and the least effective method, actually. It is absolutely free and available to everybody but its disadvantages are the following:
Low level of reliability
High level of time consumption
No way! This method is no longer possible under the conditions of present-day highly technological life.
Basic software plagiarism detection tools
Being based on comparing texts and principle of matching keywords, these tools may skip such tricks in writing as translating content, well done paraphrasing, or use of AI-generated texts. Failing to detect semantic web plagiarism, they have a really low level of efficiency and although they used to be rather effective, it makes no sense to use them now.
There has to be a new solution which will be accurate, precise in detection, and really fast. With the most advanced algorithms and techniques of processing natural language, AI-powered software for plagiarism detection is capable of efficient text analysis and comparing writing to a huge database of sources. Although it used to be absolutely impossible, now such tools can trace not only exact matching of the text, but also similarities in ideas, high quality paraphrasing, and cases of translated texts.
Thus, looking for a comprehensible evaluation of the text originality, nowadays there is hardly anyone interested in traditional plagiarism detection solutions.
Key Benefits of AI-Powered Plagiarism Detection Tools in Fostering Originality
Does AI plagiarize? Well, the tool does its job and produces the answers you expect from it. Still, you do plagiarize if you claim that the answers you get from a machine are yours.
Maintenance of academic integrity requires great effort now as AI texts are very much similar to those which are actually written by human writers. For instance, ChatGPT is excellent at responding to the given prompts and you can get a text that matches all the requirements and submit it as your own to a university professor, thus committing the crime of plagiarism. Without the feature of tracing AI content, even such powerful tools as PlagiarismSearch.com become outdated and the only thing they can confirm is that there is no copying from the available sources.
The only way that can guarantee tracing the signs of AI content and all other kinds of plagiarism is using AI-powered plagiarism detection tools.
What can they do?
They can assess the likelihood of AI-generated content.
They detect various types of paraphrasing.
They check texts for plagiarism on the basis of images.
They trace plagiarism even in the source code.
They make it impossible for the cheaters to deceive specialized software.
For sure, some minor elements can be missed in certain plagiarism tools and 100 % authenticity is a challenge to prove. The accuracy of most detectors is still under question and there will be students who claim they have produced their papers themselves although they did not. Still, there were cases of false accusations and wrongly accused students had to prove they did not make use of any tools for writing their essays. There is a lot of room for improvements!
There is no doubt that the answer to the question: 'Is AI writing plagiarism?' is positive. There should be a rule that attribution of AI output is a must if it is not possible to avoid using innovative tools in writing. For some, AI tools are assistants in studies, writing, and even journalism, while for others they seem to be a real threat to creativity and originality of ideas. Automating tasks, new tools are replacing human writing, producing a mixture of biased and nicely-written content which is still non-human. So, the demand for a perfect AI plagiarism detection has skyrocketed and the traffic is going to increase. Modern plagiarism checkers are making a great progress in identifying the features of AI-generated texts, but unfortunately they are not completely foolproof for now. With gradual improvements, the process of checking the originality is getting more and more convenient and reliable.
Let's fight AI-driven plagiarism with the AI tools!