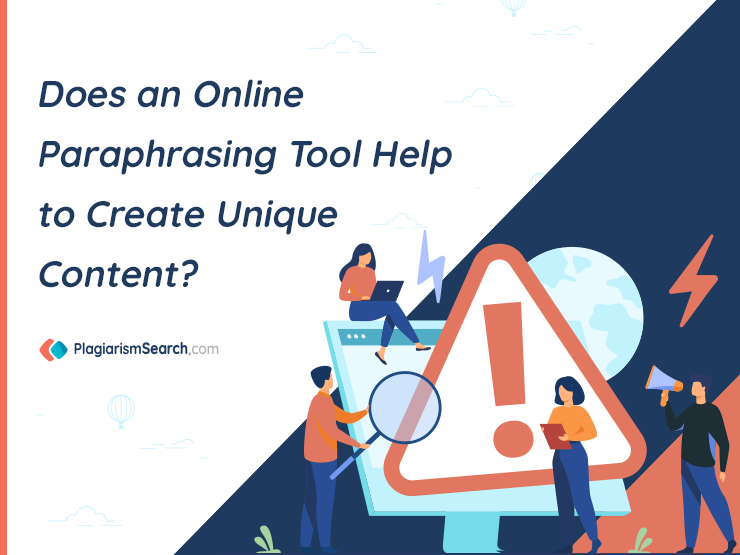 Hidden Danger of Online Paraphrasing Tools
It is a common fact that life is changing every day with more and more technological advances getting into every sphere. Professionals can accomplish much more, spending less time and individual effort than before. It is impossible to single out any field which has not experienced the impact of new tools. Doctors, technicians, manicurists use the latest upgrades in their work, so why shouldn't writers? From the first sight, it seems natural and logical for everybody engaged with creating texts online to find a paraphrasing tool that can rephrase the sentences with no change in their meaning. What do they get? Just several clicks and you get a fresh content that seems to be unique and original. However, are there any hidden reefs in all that and it this content genuinely valuable?
Benefits of Using a Website that Paraphrases
Anybody with a laptop or even a smartphone can easily access a lot of freely accessible online tools for paraphrasing texts of different complexity and length. What are the advantages of their use?
Both commercial and free paraphrasing tools are available on the Internet
You can try a few of them and you choose the one you prefer.
Seemingly plagiarism-free content
You can use the tool to modify the content you would like to use in your own text and then just proofread it for errors. The risk of plagiarism in this case is very low and you get the same ideas presented just in a different form with new structure of the sentences and synonymous vocabulary. It is a blessing for those who have no time for actual research or quality writing.
Much time is saved
Time has turned into one of the most precious resources lately. Writing is a process that cannot be done in a few minutes. Can you spare the whole day to do one sophisticated assignment for your school? If you do, all your other obligations are unattended and that can cause a lot of troubles for you in your academic life.
Professional look of the text
All new tools use the algorithms which ensure the enhancement of content and even fix errors you may not notice in the original text. Overall, the quality of the new text always looks better than that of the original one due to the tricks new technologies bring.
Perfect solution for busy students
Struggling with a lot of research papers, course works, essays, reports, and what not, students rarely produce perfect unique content in all of them even if they are rather good at writing. Owing to the trick of online paraphrasing, they can do their tasks fast and get through even if the load of academic writing tasks is overwhelming.
Learning new structures
One of the recommendations for beginners in writing is to practice more and be more inventive and innovative in structures and vocabulary. It is rather complicated to do that, doing writing on your own. Looking through a generated paraphrased text, you can learn more about the language and next time apply this knowledge in a better-communicated message to your target audience. Now only the value of ideas matters, but also the flow that might be not smooth enough.
Getting SEO-optimized content
A new text always generates more views online for the blog and website owners. You post more original texts with the introduced keywords and get more reads and more clicks. Attracting new readers owing to the technological algorithms, you save a lot of time and money you would pay for the service of bloggers and technical writers.
Unobvious Things about Paraphrasing Algorithms
Seeing a long list of advantages paraphrasing online brings to the life of researchers, students, bloggers, and freelance writers, you may assume that there is no need to avoid plagiarism tool. Enjoying the flexibility and trouble-free use of the technology, you can maintain your reputation of a prolific writer. The new texts will look absolutely different to the original source, but will that be actual writing or cheating? Is it plagiarism if you change the words? Another question is: Is it possible to detect the use of paraphrasing tools with special software for checking the texts?
For students:
Spinning the content, students submit the papers of their peers, articles they have found online, or their own assignments completed previously on similar topics. As a result, they submit papers that seem to comply with the requirement for unique content, but the text they compile does not always meet the original instructions. In most cases, it does not achieve the learning outcomes and it definitely breaches the principle of academic integrity.
For researchers:
Paraphrased content in a research article only seems to be original. Actually, it makes no contribution to the development of the sphere. In fact, it is a waste of time for the readers and an act of stealing as the authors of original texts get no acknowledgement for their research ideas.
For bloggers:
Imitation is a form of flattery. This phrase is well-known, but no blogger would like other ones to flatter him via plagiarizing the content he has created himself. It is frustrating to get to know that someone used a paraphrasing tool without any fee online and stole the blog that took you several hours or days to create. You have contributed a lot of personal experience, energy, and passion into it. Another person has just copied it and clicked on 'paraphrase'. It is a dishonest act, isn't it?
For freelance writers:
The companies need fresh content to revitalize their websites and get more interested readers and potential customers. A freelance writer creates a perfect article and attracts a lot of attention. The company pays for his services and that is a fair deal. However, if a freelance writer uses this article again and again or even borrows content from other articles, the company pays for cheating not writer's talent.
Alternative Ideas to Cheating
It is possible to make writing much faster, saving time in the following ways:
Proofreading as the writer is going along, not after the stage of writing itself
Learning touch typing
Having access to good databases and libraries for easy access to valid sources
Quoting sources according to the referencing guidelines without any exceptions
Using plagiarismsearch.com to make sure that the content is truly genuine
Placing trust in the use of online paraphrasing tools, one wants a guarantee that there is no plagiarism in the final version of the text. However, different words and structures hide cheating and falsehood. Same ideas are given again and again, turning the world into a place of repetition, lies, and concealed plagiarism. All in all, the use of paraphrasing tools is a great solution to save time, but also to ruin the fundamentals of academic integrity and fair writing.