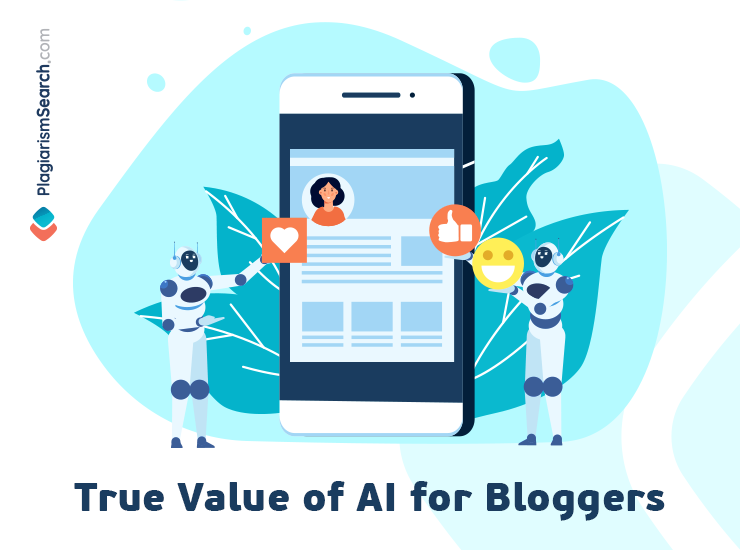 Wise Use of AI Blog Assistant
Each blog requires enhanced visibility nowadays, but is it possible to add new engaging articles as often as it is needed to speed up its popularity? If you are a blogger who cares about streamlining the content online, you have probably considered using an AI content generator to make life at least a bit easier. You need more and more fresh content daily! For sure, a human writer will soon get tired and exhausted of ideas with such a pace and so many demands of challenging present-day life. Isn't it time to expedite your work and become an AI blog writer to spend less time but produce much more content which will be appealing for the readers? What are the pros and cons of AI tools in the sphere of blog writing? Let's have a look at how a modern blogger can benefit from the latest advancements in technologies.
What Are the Most In-Demand AI Content Solutions?
Articles – get a draft or a compilation of ideas for your writing
Blogs – get inspired with a number of thoughts on the chosen topic
Posts on social media – enrich your social account with interesting posts that can engage readers
Emails – make conversion of your subscribers more effective with catchy marketing texts
Ads – promote your products, services, and ideas with excellent digital marketing
solutions
Scripts – raise burning questions in a video and place it on YouTube as a marketing tool. Keep up with the most productive companies with the help of tireless AI.
Pros of Generating Ideas for Your Blogs with AI
It goes without saying that AI saves time. It has never been that easy to generate content of any kind. Your blog requires continuous work and an ever growing scope of effort. No one can afford spending all the time and money on writing; thus, AI opens new doors.
Inspiration and productivity
At times, you cannot make yourself compose even a sentence because of writer's block. With a helpful tool, you will be able to write a blog even if you have zero fresh ideas at hand.
It is absolutely impossible to cover all spheres and being an expert in all fields is a miracle that never happens. Still, AI makes magic happen and you get quality content on the topic you are ignorant about.
For business, hiring an expert writer costs a fortune in comparison with the AI services which enable automated blog writing and research with a huge bunch of opportunities.
Cons of Generating Ideas for Your Blogs with AI
Technological algorithms cannot ensure having the best suitable approach to writing a blog targeted at a particular audience. With proper data analysis, AI still fails to make the right effect on the people, which a human writer wants to achieve.
Using AI tools for writing should go hand in hand with the services of PlagiarismSearch.com. Creating new content on the basis of internet resources can be risky. You never know where the idea comes from in an AI-generated text and that should make you worry. Only with detailed checks of the AI-created content, a human writer can make the most of automated help.
AI texts lack creativity and subtle humor of talented writers. Besides, the effect of the written texts differs in English and other languages.
Although you can give all the guidelines and expectations to the tool before it starts generating the content you need, you cannot predict the search engine results in Google as it may differentiate between human-written and AI-generated blog content.
What Are Content Farms? Content Development of the Future
If a business owner needs a blog written, it is possible to choose between outsourcing a human writer and getting the path of AI content generation. What if content is needed not for a personalized blog of an influencer but for a huge media company? If the main aim of writing is to engage more and more people and generate clicks instead of sharing ideas and making others thin over crucial issues, will the volume or quality matter? For sure, a content farm with the goal to create as many clickbait headlines as possible and get their advertising effective with enormous scopes of media and recommendations from Google and YouTube is oriented at expanding their work and making money, creating more and more blogs, videos, and articles with false ideas but maximized commercial effect.
AI dangers do not matter when it goes about business of low-quality but high-volume media. Having realized the magic of artificial intelligence, a content farm ensures mass production of content with machine vision but huge scope of writing. In the future, it makes sense to expect unbelievable now things in the field of content writing and much more sophisticated approach to generating blogs for the next generations. Inevitably, the future improvements in technologies will lead to further enhancements in algorithms and policy changes.
For sure, complete dependence of marketers and writers on AI tools is a bad idea. Recreating images of other authors, using texts composed on the basis of the online databases, writing blogs in the form of compilation of previous ideas, and plagiarizing content does not sound like a promising approach to generating content. Nevertheless, getting a push from an AI tool for a first draft or having access to a collection of keywords on the topic, an author may feel more secure against all the threats of creative writing. They can add a human touch, enhance the accuracy of ideas, make content factual or highly emotional, ensuring the natural flow of text for the readers. Streamlining the process of content writing for a blog, AI content tools may not be the best option if used without proper care of all relevant aspects. Weigh all advantages and disadvantages of investing into AI content generator and take the necessary measures to eliminate risks and make the most out of technological progress in your work! The future belongs to us, not the machines, but the latter can make it much more colorful and less tiresome.