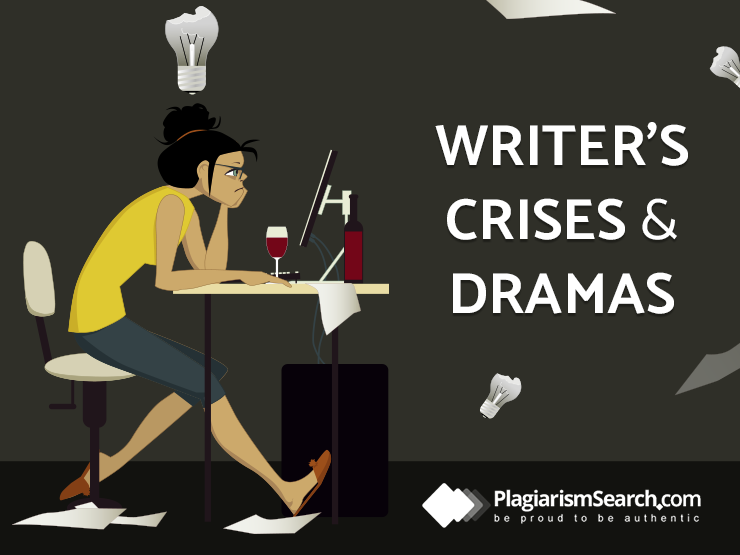 Writer's Crisis. Part I.
An inner writer has been sad. "Where is my muse?" he glumly said.
Reflections of a writer who doesn't know where to start. Both simple and terrific writing tips.
People, when talking about me in a positive way, say something like, "She's the one who displays special creativity in every task. Oh, and she writes poetry and prose." If someone new is suddenly "interested in my personality", they may ask me to show my literary achievements, and I often humbly reply, "I don't think you will like it much. Mostly, my written works consist of awkward symbolic expressions that dwell merely inside my mind. Are you sure you want to read it?" Well, I don't know if the majority pretends, but my acquaintances seem to appreciate my works, while my friends insist that I should publish at least one poetry book or collection of short stories. However, I am self-critical for a reason.

I do not stick to the essential writing routine. I can write but I may forget to do it. Then, you may question, do I truly need to write? That's quite sensible, but I feel I have to write myself out because a whirlwind of ideas is always somewhere beside me. Sometimes, I wake up, instantly recollecting the details of a whimsical dream that the spirits of night brought to me, and, as a striving writer, I make almost an indefensible mistake – I do not take a paper and a pen, I do not open my laptop to write it down, and even my smartphone notes remain blank… Perhaps, there is hope that changes are on the horizon because the question "Why don't I write my dreams down" started tormenting me. That's a brilliant idea to begin a new day with describing your dream experience (It will make the start of the day much brighter! Don't you think we're often guilty of calling our usual days "ordinary ones"? We willingly program this mediocrity!). I'm sure that many authors turn those visions into remarkable stories. At this very moment, I'm experiencing a flashback into Salvador Dali's paintings: his main inspiration came from his dreams. The wildest ideas are born or reflected within us when we are dreaming. As an artist, you can paint them. As an author, you can narrate them. So, dear aspiring writers, take it as a rule #1: Write your Dream Experience Down.

Contemplation Fuels Narration

Have you ever realized that storytelling takes place anywhere you go? It happens when you are alone, it happens when you are with people. Each of us carries a story inside our exceptional treasure-troves. It makes me recall the words of George R. R. Martin's hero Tyrion Lannister about the importance and power of storytelling. His revelatory speech in the final episode of "Game of Thrones" made me immerse in thinking. I still keep pondering over these simple words when I sense a lack of inspiration: "What unites people? Armies? Gold? Flags? Stories. There's nothing in the world more powerful than a good story. Nothing can stop it. No enemy can defeat it."

Stories are everywhere, and even if you smile ironically, recollecting all those story-spammed Instagram accounts, you know that I mean something more profound. Here a rule #2 arises: Become a Storyteller, transform usual things into extraordinary or essential ones.

Let's describe such a routine daily activity as a walk in the park or your feelings about the new day in three different ways: apathetic, melancholic but symbolic, and spirit-stirring… If you refuse to switch your imagination on (but I bet you have it), at the same time feeling slightly bored and moody, then your description of a walk in the park will be something like that:

I walked in the park on my way to work like I do almost every day. The same trees, the same benches, the same fountains. There was nothing special around me. As always. Yet another cheerless day has started.

On the contrary, even if you truly want to write something melancholic or cynical, it should be satiated with colors – alright, let them be shades of black. Let's play along, an anonymous gothic hero!

After I made the last sip of my morning coffee, probably darker than the hidden corners of my soul, I got dressed, as suitably as I could, imitating the fashion demands of half-blinded social circles, self-proclaimed Bohemians who only pretend to have heard of secret societies of doomed poets… I felt exactly like that hopeless poetic creature forgotten by the world. My sufferings made me special. Without them I would blend with the rest of the people around me, and living ordinarily never was my cup of tea. I girded up my loins to leave my dusty room of stagnated thoughts. However, instead of going with the flow, pretend that I'm like all others – working, striving to achieve something, being highly motivated to accomplish absolutely useless tasks – I changed my direction and stepped into the shady alleys of a dormant park… The trees, my olden friends, were curiously observing me passing by… I saw their wise profound eyes among the branches. I felt that fantasies live inside their trunks. Many years ago, owing to John Ronald Reuel Tolkien, I changed my attitude to trees: they became even more alive to me, and I started believing that the smallest tree is an heir of avital Ents… The atmosphere of my favorite park, which always seems to be an enchanted forest, transformed that doleful creature who hated the world in the morning into a benignant figure who suddenly smiled so peacefully, having sensed that a new fanciful story was being born within her imaginative mind.

In the paragraph above, you can observe an unhurried mood change, from pathetic to elevated. And whereas I decided to recreate a certain gradation of emotions, my third attempt would be to write something inspiring, slightly amusing, and motivational.

I woke up with a smile because I was dreaming about traveling throughout eye-filling outlandish places that reminded me Eden on Earth. My room was filled with glittering rays of the morning sun. I looked at my hand, it seemed magically luminous, and I suddenly started bursting with laughter – this image of shining things around me, including my body, reminded me of Edward Cullen's ability to sparkle. No, I haven't turned into a vampire from "Twilight" overnight, have I? No, I'm still a living human being, simply grateful for the opportunity to dive into yet another lovely day. Yesterday, I was a self-styled doomed creature in "I'm okay" disguise, questioning the meaning of my existence. Today, I am on my way towards positive transformations. Instead of whining and feeding a monster of indifference, I have greeted this beautiful day, wishing happiness and inner light to permeate every soul full of doubts and pain. Life is wonderful, you are beautiful – never forget about it.

I know that it can be more than difficult to start, but you will never be able to explore your potential to the fullest unless you put a stake in the ground. This is not only about writing – it is about everything that you have to accomplish to feel better, to have a more meaningful life, to make a difference… The Universe we live in is complicated and simple at the same time. Even a small person like you can achieve something big. If you are keen on writing, if figurative language fascinates you as an integral resource of your personal magic, then go for it, become a virtuous storyteller, become an author! Who knows, you may be next Edgar Poe or E. T. A. Hoffmann of the modern times – but, preferably, be yourself.