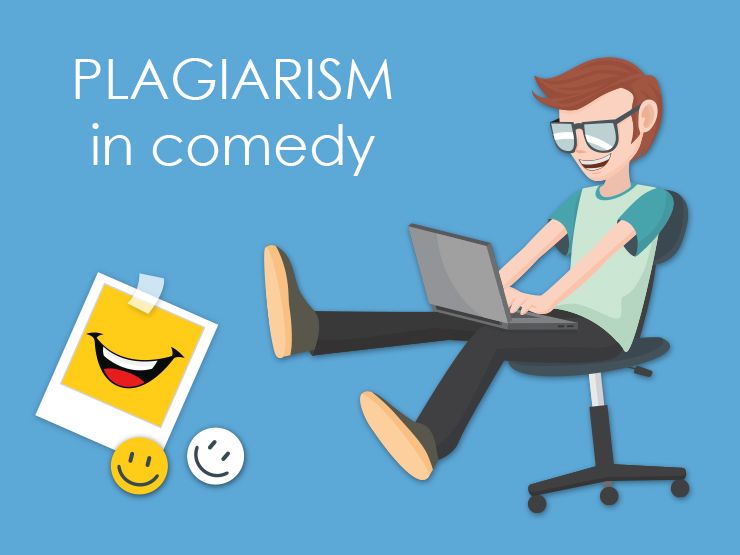 Why Comedians Become Victims of Plagiarism
"Plagiarize!
Let no one else's work evade your eyes
Remember why the good Lord made your eyes
So don't shade your eyes
But plagiarize, plagiarize, plagiarize…"
That's how a mathematician and satirist from New York, Tom Lehrer, sings, ironically encouraging plagiarism. Of course, it's just a humorous song that should be perceived the other way round: listen to it, laugh, but don't plagiarize.
I have started this article with humor for a reason – comedy plagiarism is thriving nowadays. Perhaps, people forget that jokes are also someone's written works. It's fine when you tell a witty joke in a circle of friends, forgetting to mention its author, but it's different when comedy is your career and your recently created jokes have gone viral.
Once, a promising British comic Gary Delaney became a victim of plagiarism. He noticed that the public started to perceive his usually hilarious one-liners half-heartedly. What happened? Did inspiration expire? The problem appeared to be unpleasant and simple: his witticisms were posted on Sickipedia.org without attribution. It means that his target audience had read his brainy gags online before he even performed his new stand-up material. As you may have realized, the leakage of original ideas is also considered plagiarism, even if the audience doesn't appropriate them. In this case, Delaney asked the joke encyclopedia's admins to remove his gags from their web pages. The administrators apologized and created an option for authors to post their jokes with attribution. Though this copyright complaint worked, the website's readers displayed a hostile attitude, instigating other ill-wishers to steal his one-liners, which appeared on social networks without crediting his efforts.
Another comic, who is distinguished for short jokes, Milton Jones, was interrupted during his live performance. A person from the audience accused Jones of plagiarism. The truth is, the joke was originally made up by the comedian but one popular individual used it, which became widely spread as the celebrity's own words. Anyway, it was hard to prove the authorship because the gag wasn't written down.
Stand-up Comedy is not Protected
Though a comedian has a right to claim that somebody stole his joke, copyright comedy is a rare phenomenon because the law does not protect it well. For instance, in Great Britain, it's impossible to provide a stand-up with exclusive rights unless the jokes were written down in advance or live performance was recorded during the show. The core idea remains unprotected until it is expressed in certain words and perpetuated by its creator. So, such comics as Gary Delaney or Jimmy Carr, which create one-liners, always risk being subjected to plagiarism because their wisecracks are easily memorable. On the contrary, it's more difficult to plagiarize long humorous stories.
So how can comedians safeguard their own ideas against plagiarism? Even if your joke consists of one line, it is advisable to write it down word for word, providing the date of its creation. It's also suggested that you save it on your computer where the date of files' creation and editing is always visible. Of course, you can start inventing long anecdotes, but as long as it is only in your mind, no copyright claim can be made.