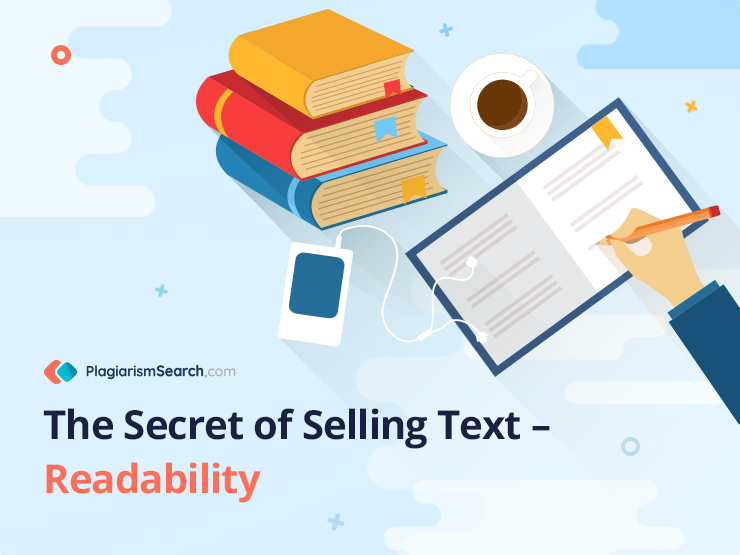 The Secret of Selling Text – Readability
You need a smart promotion of your services. So, you have written a text that you want to use as a marketing tool. Is it interesting to read? Yes, it definitely is! However, can your text sell? That is the most important question and you have to answer it if you want to be successful instead of wasting your time and effort! A perfect selling text is always written in accordance with a particular algorithm and it should turn your visitors into clients!
What is one of the most important ingredients of a perfect selling text? Right, it is a proper readability score!
Why Does Readability Score Matter for You?
Unreadable content is what can kill your content marketing campaign at once! Does it mean that you have written something illegible? Not really. In fact, even if you have built an excellent piece in terms of academic writing, it may probably offer no value to the target audience. In fact, even when you have a good content, the text may be not optimized for its readability.
Your utmost goal is to learn the readability definition and try to succeed with an improved content in your marketing efforts for a niche audience.
So, readability implies how easy it is to read and comprehend the text in tune with its unique characteristics. A professional grade level checker can help you identify a corresponding level of your particular text. Why is it important?
Content readability impacts online ranking.
People will never waste their time on trying to understand endless text blocks! You will simply lose your clients if you believe they will.
Scanning is a new approach to reading. You have to admit that it is a great challenge to scan a complicated text and help your readers.
One of the easiest ways to evaluate the level of your writing is to use the Flesch Kincaid grade levels the same way the American students measure the quality of their writing by grade level. For instance, the writing of a first-grade student gets the value of 1.0, while a ninth-grader gets 9.0. Which score according to the reading level checker will be perfect for a general audience? They say a perfect readability formulae determines it as 7-8, while newspapers mostly aim at 6.
Which details does a grade level writing checker take into account, while specifying the readability levels?
word count
target reading level
distribution of keywords
use of subheadings
grammar
structure of sentences
'Rate my paper! I need to know how to improve what I have written!' This is a common request sent to the experts of a readability checker and they know how to measure readability of your content and what advice they can give you.
How to Make the Flesch-Kincaid Reading Level of Your Text Lower
Unfortunately, your text cannot sell if it has a lot of big words, superlative adjectives, and complex sentences. Simple writing is actually not easy at all, but practice always makes perfect!
Ask an expert in writing, "Could you please rate my essay?" and get a bunch of recommendations how to make your writing more efficient.
Have a look at our easy guidelines on how you can make your readability score lower.
One idea at a time – not more!
Short sentences mostly. You can definitely include a few longer sentences for a variety, but they should be among much shorter ones.
An average paragraph should not exceed five sentences. For sure, you can make some exceptions.
The shorter the word the better. Do not use adjectives with a lot of syllables. Your readability statistic will be much better if you write that an apple is tasty rather than delicious.
Your writing should be direct and natural. If it is suitable, you can even make use of some dialogues.
PlagiarismSearch as a Perfect Solution for Readability Check and Paper Analysis
Our checker applies a special readability calculator which can not only estimate the readability score of the text, but also identify the flaws in the content. A Flesch Kincaid grade level formula is applied to every uploaded file. Consequently, the user gets ready-made analysis results after the system has counted the characters, syllables, words, and sentences to make sure that the text is suitable for a certain audience.
What will PlagiarismSearch do? It will point out vague phrases and excessively complicated sentences as they may cause confusion. It will also specify whether there is any wordiness, tautology, dominance of passive sentences, an excessive number of terminology and other factors.
What should you do to get the results of the check? Please note that it will be amazingly easy to send a request 'Could you rate my research paper, please?' and wait for the results. What you need to do is to attach the file, drag and drop it, or use the URL, Dropbox, or OneDrive to submit it. There are some limits in the file sizes: before you start checking, you can upload all the files that do not exceed 24 MB; also, pay attention to the list of supported formats.
Note that if there are any file upload issues, it is always possible to copy and paste the text for checking instead of uploading the file. Most of the students willing to get assistance with their papers ask for a service from us: 'Can you rate my application essay, please? It is the paper that can change my life!"
NB: As a customer of PlagiarismSearch you can either simply request for the rate value from a reading level calculator or make use of an extra option and get analysis of a paper.
Having purchased a package of services, you will get access to professional interpretation of the provided text along with the recommendations from gurus in marketing. You can get customized guidelines about the readability of your text and then request for a service, which will directly help you to "proofread your writing online". Thus, you can confidently send an inquiry, such as "Could someone grade my paper online?" to PlagiarismSearch support agents.
Your priority task as a marketing expert is to get your audience engaged with your content. Even if your text is rich in information, it will not be effective unless it meets the readability level of your readers. Send a request 'Rate my writing!' to the experts of PlagiarismSearch or use a readability calculator of the tool. It will help you to find out whether your text can trigger positive emotions in your potential clients, whether your content is compelling and marketable. Otherwise, you will have to improve its readability and streamline the created content.