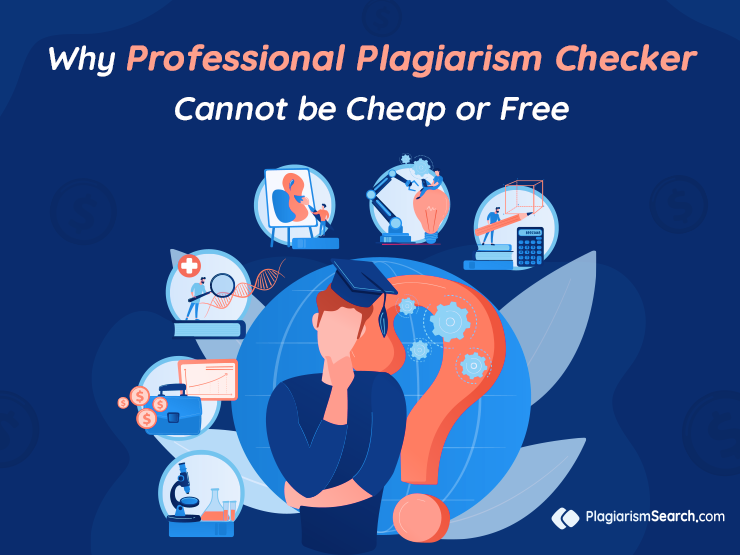 Hidden Truth Behind Free and Cheap Plagiarism Checkers
Why Professional Plagiarism Checker Cannot Be Cheap or Free
PlagiarismSearch was developed as an advanced plagiarism checker that can satisfy all customers' needs and address all their concerns in terms of detecting originality of the written texts. We are open to communication with our customers and we want them to be pleased both with the product and the level of service we provide. Having analyzed the results of our Customer Survey, we can conclude that there are a lot of complaints related to restricted free use of our plagiarism checker. We understand that a professional free plagiarism checker is a cherished dream of all users, but unfortunately, it is an unachievable goal. The proverb says, 'free cheese is only found in the mousetrap.' It makes sense, isn't it?
Some of the checkers offer free features of spelling, grammar, and punctuation checking, but the software for quality plagiarism detection are mostly included in the paid premium packages. First of all, developing a solid database for an anti-plagiarism tool requires enormous effort and time, that is why free or cheap software always has limited databases and the report will not show an accurate percentage of copy-pasted content in the text. Secondly, the functionality and features of the paid and free versions are always very different, and the up-to-date checking algorithms developed after long-time research will be introduced into the paid tools, for sure.
Disadvantages of a Free or Cheap Plagiarism Checker
At present, the opportunities for using someone else's work are huge, and high school, college, university, and MBA students tend to make use of numerous internet resources. Plagiarism has become a serious issue and it no longer can be checked without automatic software that is both fast and efficient. Plagiarism software is mostly in-demand among the teachers, students, website marketers, and website owners although there are also other groups of people who use it sometimes. It is natural that they put forward a question: 'Is this tool safe in terms of protecting my privacy?'
Free plagiarism checkers rarely provide accurate and reliable details about their location. Moreover, they frequently store the content submitted by the customers and you are never sure about further use of this content. It may even happen that the content you have checked will be published by the plagiarism tool owner and used without any consent of yours.
Unfortunately, copyright violations are not uncommon for such companies and even the Privacy Policy they present may be absolutely false. Thus, you have to keep in mind that using a random free plagiarism checker, you take hazards if you submit the whole text of your academic, scientific, or business paper.
Paid plagiarism detection tools always have serious advantages compared to free or cheap versions. There is definitely an advantage of saved money, but at the same time the disadvantages make the users think twice about this option. Why is it so?
A lot of plagiarism checkers:
have restricted usage
contain hard-sell advertising
cannot detect the entire volume of plagiarism
offer no or poor customer support
can publish, store, or even sell the content of submitted texts
reserve the most valuable features for the full package of plagiarism software
Can a Free Plagiarism Checker Be Useful?
It should be taken as a self-evident truth that in most cases a free plagiarism checker cannot ensure detection of all plagiarism and copy-pasted content. This may cause issues in case of serious checks to be done. Nevertheless, it may happen that a free version will be sufficiently effective.
Thus, you can use a free plagiarism checker with the adequate efficiency when:
you need some testing of the tool before you buy a premium package
you need to check only several lines or maximum a page
your score does not depend on the originality of writing and no one will check your text
How to Differentiate Between a Low-Quality Cheap Plagiarism Checker and a Professional Plagiarism Checker
We have prepared a short list of questions that you should ask before you opt for a certain plagiarism detector:
Is the anti-plagiarism tool safe to use?
Is the data protected?
What does the service do with the content the users submit?
Are there any hidden fees in the services?
Do plagiarism reports contain interpretation of the highlighted content?
Ads that distract the user's attention, the features of interface which cause numerous inconveniences, a requirement to get the reCAPTCHA done every time a plagiarism check is needed, a lot of limitations in terms of the languages, file types and sizes make the use of a cheap plagiarism checker rather complicated. On the other side, premium tools offer the product which serves just right if a professional plagiarism checker is needed.
You always get what you have paid for. If you check for plagiarism free of charge, you know that the most prominent cases of plagiarism are always detected, but you cannot be sure that the accuracy of the service is at its maximum level. While students sometimes can benefit from a service they can get absolutely for nothing, the working experts will definitely opt for a checker known for its reliability.
We would suggest using the free version just to check whether the plagiarism search tool suits you and then pay for a professional plagiarism checker that will meet all the requirements and strictest standards. PlagiarismSearch offers an affordable paid solution tool that works really fast and is intuitive to use even for inexperienced customers. It is a cost-effective investment that gets regained really soon.