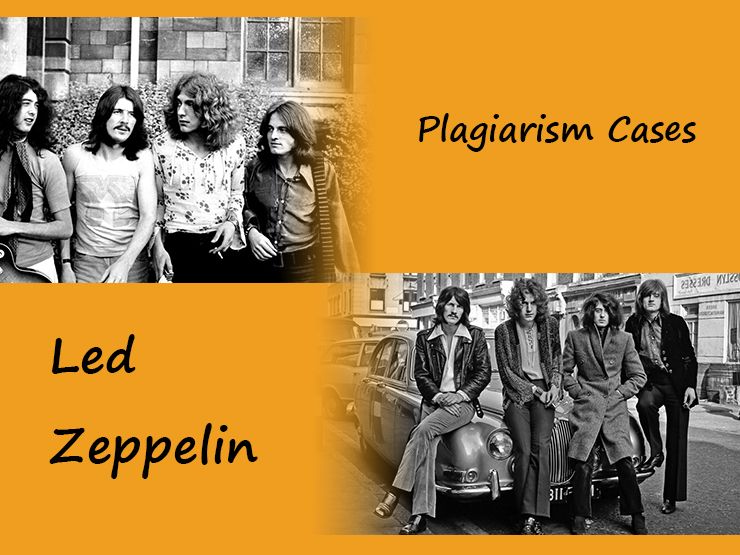 Led Zeppelin Plagiarism Cases
Many people would agree that many songs of a popular British band, Led Zeppelin, sound familiar. It happens not because people have already heard the songs earlier but because the band is said to filch songs from other singers. Numerous court cases serve as a proof of this statement, as in the instance of Led Zeppelin Stairway to Heaven plagiarism.
Actually, Led Zeppelin plagiarism is not the only example of playing songs of other bands or singers without giving credit. Many bands in 1960s tended to do it hoping that they would not be caught and accused of stealing. Take, for example, "Love in Vain" by The Rolling Stones. Many people know the song but not all of them know that the real author of it is Robert Johnson.
There are numerous Led Zeppelin examples of plagiarism. The band is known for being one of the brightest representatives of those musicians who could take an old song and turn it into something new. As a result, the fact that the song was actually plagiarized was not noticed, as well as publicized. For example, John Bonham took a drum beat from a song of Little Richard called "Keep a Knockin" and used it in a song "Rock & Roll". Despite the fact that sounds and beats are not protected by copyright as compared to melodies, it is only one example of a long Led Zeppelin plagiarism list. As a result of such activities, the band was involved in numerous court cases and lawsuits.
On the other hand, it should be stated that such practice was usual for band members as they often gave credits to the song authors. For example, while creating their first album, they named Willie Dixon as an author of such songs as "I Can't Quit You Baby" and "You Shook Me".
It seems like sometimes the band members did not worry much about changing some lyrics or melodies, as if they would better apologize for what they did rather than ask for permission.
It seems like sometimes the band members did not worry much about changing some lyrics or melodies, as if they would better apologize for what they did rather than ask for permission.
"Babe I'm Gonna Leave You"
The story of the song creation clearly shows how the achievement of one singer became a way to success of the other one. This song was included in the first album of the band and was claimed to be traditional. However, originally, the song was written by Anne Bredon, who was an American singer, in 1950s. Two members of Led Zeppelin turned out to be huge fans of the song and played it in their own album, giving arrangement credit to Jimmy Page. It is interesting to know that later, in 80th, Anne Breadon, who had no idea that her song was played by some other band, found out about this. However, her reaction was quite calm and she agreed to act as a co-author of a song.
"Dazed and Confused"
The other time Led Zeppelin was not so lucky to avoid the lawsuit. However, they managed to play the song for a long time before its original author sued the band. The song was originally written by Jake Holmes and became one of the music compositions in his album "The above Ground Sound". Jimmy Page refused admitting that he has copied the song by stating that he did not know anything about the similar song written by Holmes. However, by comparing two songs it becomes obvious what came first: egg or chicken. Despite the fact that lyrics were changed, there is no doubt that the song was plagiarized. The first reaction of Holmes was to let Led Zeppelin play the song. Nevertheless, some time later he started a lawsuit, after which Led Zeppelin presented the song as inspired by Jake Holmes.
"The Lemon Song"
Despite the fact that "lemon" lyrics are mostly connected to Robert Johnson and his "Traveling Riverside Blues", they date back to older times and to Howlin Wolf's song known as "Killing Floor". After the lawsuit ended, Led Zeppelin members credited Howling Wolf's leader Chester Burnett as a co-author of the song.
"Bring It on Home"
This closing track from the Led Zeppelin's album Led Zeppelin II is one more song written by Willie Dixon and played by Sonny Boy Williamson. Despite the fact that Page insisted on the fact that only a little piece was taken from the original song and was played mostly as a tribute to Williamson, it is obvious that the piece plagiarized from it is not that "little". Almost half of song's running time reflects the original sound of the Williamson's composition. So, as a result, the Page had to give credit to Dixon and his song.
This list of songs can be enlarged by such compositions as "Whole Lotta Love", "Since I've Been Loving You", "Bron-Y-Aur Stomp", "Hats Off to (Roy) Harper", "Boogie with Stu" and "In My Time of Dying". All of them were to some extent plagiarized from the works of other bands and singers, indicating that no matter how good the band is, there are songs they want not only to share with people but also to make a part of their own accomplishments in music. Anyway, even knowing that Led Zeppelin, as well as many other bands, have been involved in plagiarism activities, it does not make them less outstanding. Their little sins can be forgotten giving credit to the talented musicians.