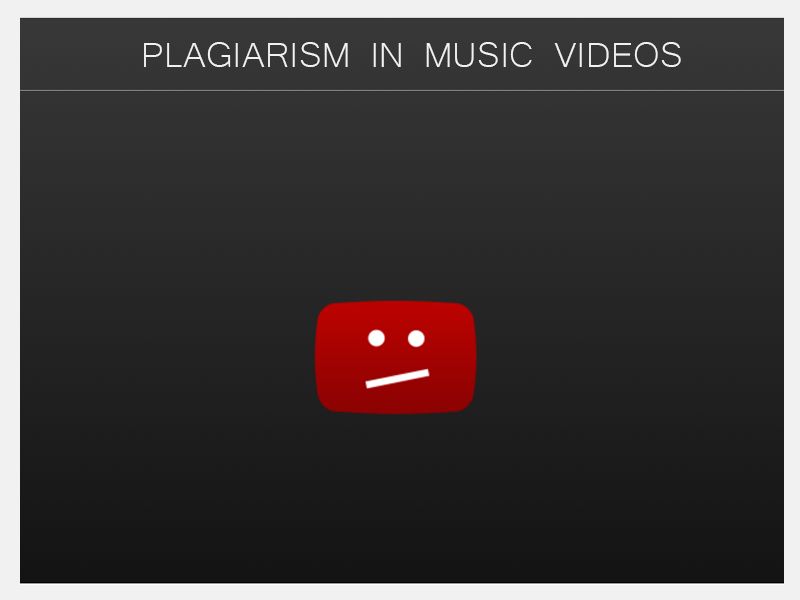 Plagiarism in Music Videos
Music Plagiarism is the use or close imitation of another author's music while representing it as one's original work. Plagiarism in music now occurs in two contexts—with a musical idea (that is, a melody or motif) or sampling (taking a portion of one sound recording and reusing it in a different song). Any music that follows rules of a musical scale is limited by the ability to use a small number of notes. All forms of music can be said to include patterns. Algorithms (or, at the very least, formal sets of rules) have been used to compose music for centuries. In the event of a trial, a person claiming infringement (the plaintiff) has to prove two things: "access" and "substantial similarity". For these reasons, accidental or "unconscious" plagiarism is possible. Moreover, some artists abandon the stigma of plagiarism altogether. There are some real life examples of plagiarism, and they have been discussed below.
Brazilian musician Jorge Ben Jor accused Rod Stewart of music plagiarism, alleging that his 1979 No. 1 hit "Do Ya Think I'm Sexy?" is very similar to his song "Taj Mahal". There are some plagiarized portions you can compare.
Boyband One Direction has been accused of stealing the concept for their music video, namely "time freeze" special effect, from Australian band Clubfeet.
Jennifer Lopez copied Kat Deluna's rodeo song "Party O' Clock" released in 2010. Her dance hit "On the Floor" released in 2011 bore a striking resemblance to Deluna's song.
Katy Perry's "Roar" is almost an exact copy of Sara Barielles's 2013 song "Brave." Bareilles had a rather positive reaction upon realizing her song was copied.
Ariana Grande's video "One Last Time" was accused of lifting the concept from another clip "You Are The One" released by the Australian group SAFIA, which comprises of Ben Woolner, Michael Bell, and Harry Sayers.

Taylor debuted her hit "I Knew You Were Trouble", and fans noticed that this video is very similar to Rihanna's 2011 hit "We Found Love."
The family of late soul singer Marvin Gaye sued Thicke for copyright infringement over the Grammy-nominated song "Blurred Lines", saying it was too similar to Gaye's 1977 hit "Got to Give It Up."
David Guetta's 2012 song "Play Hard" featuring Ne-Yo and Akon is considered to have "heavily" sampled the 1998 single "Better Off Alone" by Dutch group Alice DeeJay.
George Harrison's song "My Sweet Lord" was accused in 1976 of plagiarizing The Chiffons' 1963 hit "He's So Fine".
Led Zeppelin's "Whole Lotta Love" song was accused in 1985 of stealing Willie Dixon's song "You Need Love", which he'd written for Muddy Waters.
Avril Lavigne and Dr. Luke wrote a song called "Girlfriend", clearly meant as an homage to a power-pop song called "I Wanna Be Your Boyfriend" by The Rubinoos.
"Folsom Prison Blues"
Even Johnny Cash, a man whose authenticity is central to his entire mystique, ran into some plagiarism trouble during his career. His song "Folsom Prison Blues" was stolen from Gordon Jenkins's ballad "Crescent City Blues".
Justin Bieber's "Baby" plagiarized Perla's song "Tremendo Vacilão". With his penchant for trouble, Bieber's plagiarizing wouldn't exactly be a shocker, sadly.
The legality of these plagiarism situations and others would be dependent upon the intent within which they were produced. The two safest approaches to take in regards to these situations are
Avoid them altogether
Confirm the works' usage permissions and cite them properly.