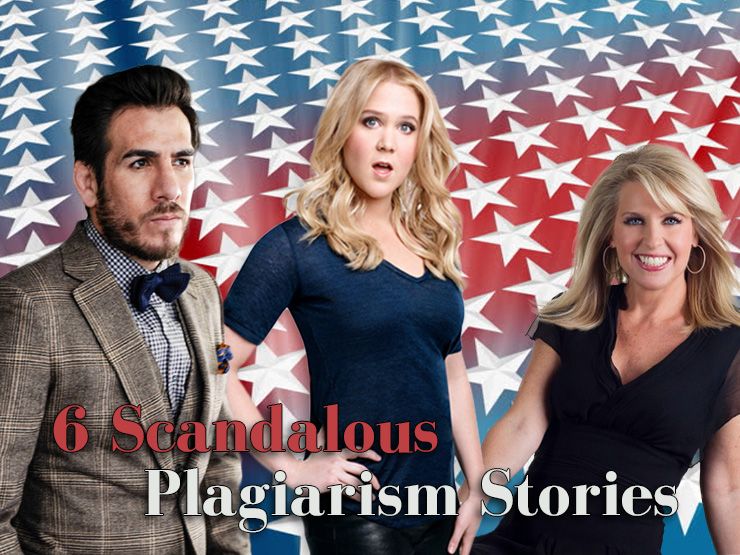 6 Scandalous Plagiarism Stories that You Should Know
Plagiarism is a serious crime that can lead to bad consequences. Though people are aware of it, some of them continue to steal expressions and thoughts of other authors. There are a large number of plagiarism-related incidents. However, have you heard about the most scandalous plagiarism cases?
The plagiarism story that astonished many Internet users concerns Monica Crowley. She was accused of plagiarizing some sections of her book published in 2012. Before publishing, each book has to be revised several times to make sure it is cited properly. Nevertheless, Monica Crowley seems to have skipped this step. According to the CNN KFILE, about 50 examples of plagiarism were found in her book. The author copied the material provided by different sources of information and made just some slight modifications. Such a case can ruin the reputation of any author. However, this is a special case, as Donald Trump has appointed Monica Crowley to work as a Senior Director of Strategic Communications for the National Security Council. Monica Crowley has been also accused of plagiarizing her dissertation written in 2000. Politico states that though Crowley has made footnotes in some cases, they were organized inappropriately. It also claims that the author has copied the rest of the text without citing it correctly. Despite the accusations, the team of Donald Trump defended Monica saying it was just a kind of a political attack.
One more case relating to the most interesting plagiarism stories concerns Kenny Florian, a former competitor of martial arts. After being retired, he worked for FOX Sports. On January 11, Kenny published a post about the fight between T.J. Dillashaw and Dominick Cruz. However, one of the Twitter users noticed that there were some similarities between the post and the video shown on YouTube created by Lee Wylie. Florian said he mistook and apologized. Nonetheless, the case remained unresolved and FOX Sports had to suspend Kenny Florian. This story reached the breaking point when Dominick Cruz, the winner of the said fight, asked Florian not to plagiarize. Some time later, Cruz said he was joking. However, it was obvious that the case irritated many people relating to the MMMA community. Though Florian started working again, everyone will remember the scandalous situation.

Lisa Rein is a participant of the next plagiarism news. Recently, the Washington Post has admitted that a few articles written by Lisa Rein contained copied material from the Government Executive. The reporter apologized to the Government Executive and her readers for such a thing and said it was done unintentionally. It is unknown whether any disciplinary actions have been taken against Lisa Rein. Nevertheless, now all stories highlighting some cases contain editor's notes and certain modifications. The Washington Post states that the Government Executive noticed the issue on its own. As a result, their deputy editor Katherine McIntire Peters sent a letter to the Post to draw their attention to the matter. The Government Executive said they were very grateful to the Washington Post for their reaction to the issue. They admitted that huge attention should be paid to such thing as plagiarism.
A popular comedian Amy Schumer has been accused of telling copied jokes. A few comedians, namely Tammy Pescatelli, Wendy Liebman and Kathleen Madigan were irritated with the fact that their jokes had been used by Schumer without their permission. When the majority of tweets with their jokes were deleted, Liebman refuted all accusations made against Schumer. She even said that had never accused Amy Schumer of copying her jokes. She just admitted that Schumer's jokes were similar to those of hers. Nevertheless, other two comedians did not want to forget about the plagiarism scandal. They even created a video analyzing and comparing their jokes with those of Schumer's. It should be admitted that many online users noticed that Schumer's jokes as well as those of three comedians have their own peculiarities. Thus, they can be called as unique creations of each of the comedians.
Are you ready to hear about the next plagiarism case? Read the following:
Matthew Whitaker, a professor of the Arizona State University, made a decision to leave his job after accusations of plagiarism. This plagiarism story started in 2012. The school faculty noticed that some parts of professor's book published in 2011 sounded doubtful. Professor said that his colleagues just envied of his promotion. The University investigated the case and confirmed the book contained plagiarized sections. At the same time, it stated there were no proofs of systematic plagiarizing. Nevertheless, the situation with Whitaker's book published in 2015 was the same as that with the previous one. As a result of the made analysis, Whitaker was demoted to an associate. There were more cases of plagiarism found in the works of Whitaker. Finally, he decided to resign from the University.
Are you aware of the plagiarism news relating to the Japanese Olympic Stadium? The crux of the matter was the design chosen for the stadium. Kengo Kuma, Japanese architect, won the competition. However, it was found out that his design was similar to that of Hadid. Thus, the designer was accused of plagiarism. The Sports Council of Japan refused to pay for the design services, as they wanted the Hadid's company to transfer the ownership of copyright to them. The latter refused to do it.
This is an incomplete list of stories concerning plagiarism. There are many other cases relating to this issue.