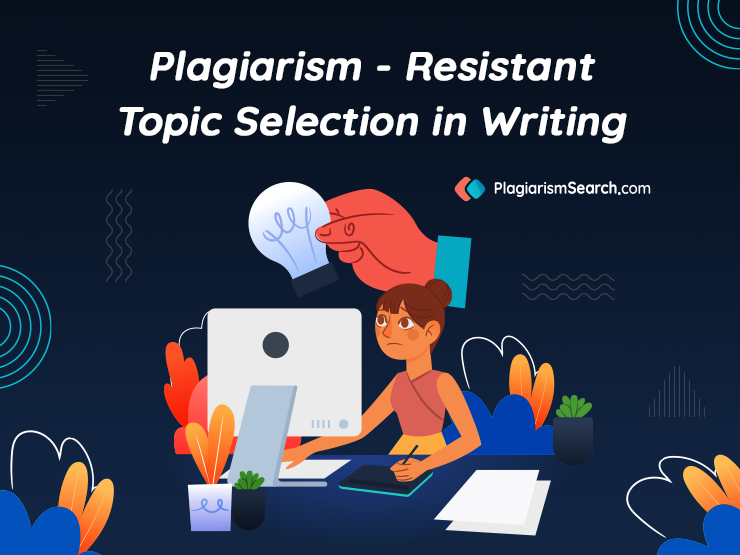 How to Choose a Plagiarism-Resistant Topic for your Essay
One of the most burning topics raised currently in the academic world is plagiarism. Thus, it is natural to get concerned about the choice of a topic which can discourage copy-pasting and borrowing the ideas of other people. Luckily, there is a wide scope of straightforward writing techniques that can avert plagiarists. You can also try to reduce plagiarism in your own work if you pay special attention to the topic and ideas to use. Put your thoughts down only after you have considered all the aspects. It may sound weird, but some topics are not only more appealing for plagiarizers, but they also create more opportunities for cheating. So, the question is how you can choose the topic so that your work was unique and informative.
Is Your Choice of the Topic Right?
We have prepared some hints for those who would like to get an insight into the secrets of choosing the right topic for your writing. It is really easy to follow them, but the effect is impressive.
Hint 1: Stay away of the topics somehow related to spam
It is a hint which seems to be obvious, but it is really challenging to follow the rules which are mandatory.
How are the spam sited created? They are based on collecting content from automated bot software, and there are certain topics which are commonly used. Check a spam folder in your email and you will notice which topics you frequently see there. What do they send you? Check now and you will most probably come across several emails on pornography, others on employment, finance, and pharmaceuticals. We bet you feel irritated of them, so it makes no sense to use any topics somehow related to those spam emails.
If your work is focused on any aspect related to the content of those spammers, it is likely you're your readers will view your thoughts as plagiarized. If it is possible to change your direction in writing a bit, we recommend avoiding these topics.
Hint 2: Make sure that your writing is specific
What is easier: to make the articles so broad that everybody could understand what it is about or to address a specific audience and make your writing oriented at knowledgeable or interested readers? For sure, the second option is more time-consuming and tiresome, but it is much more effective and productive.
For instance, you are a blogger on the topics related to education. It seems to be a nice idea to publish an article on some general topic about the status or value of education. Still, the content of this article is too predictable, and there will hardly be anyone really interested in it. Besides, the likelihood of plagiarism in this text will be much higher than in an article about a particular school with its values and approaches to sharing knowledge. Your writing on a specific topic will have two apparent advantages: it will be more appealing for the readers and less related to spam content and plagiarism.
This hint can be applied to any area of knowledge. For instance, an article about the legacy of Hemingway in general is more likely to be plagiarized than a post about one of the passages from a particular book.
Typically, broad content is more beneficial for plagiarizers. For sure, they are tempted with an opportunity to steal ideas and give them to the readers with little effort exerted. If a piece of writing is devoted to some narrow topic or a particular aspect of some broad concept, plagiarists will hardly be interested in using it. Instead, as it is unique, it will be oriented at a specific audience that will highly value it.
We recommend asking only one question prior to working on an article or post. "Can somebody use my content on any other website?"
Hint 3: Use unique visual appeal
For sure, if you can insert appealing visuals into the text that covers the required content, you should do that to attract more readers. Still, it is highly recommended to watermark all pictures and images with a certain signature, logo, or name. Thus, plagiarizers will feel discouraged and you will preserve originality of your article or post.
It is natural that people eager to steal ideas will not exert too much effort to get what they need. Instead, they will look for the content that is not difficult to get. If the images are protected with watermarks, it will take extra time from plagiarizers to remove them. In most cases, they will just forget about your text as a source and start looking for another one. That is what you have wanted, isn't it?
So, there are several paths a plagiarist can take. First of all, he can try removing the watermark from your images, but it is unlikely that he will actually try hard. Who would waste hours just to make use of something that has more accessible analogues online? Secondly, he can use the text with no images, but without visual elements it will be less valuable. Thirdly, they will use your images but refer to them in their work.
It goes without saying that writing with specific examples, figures, and charts as visual elements is a trap for plagiarists. If you want to achieve the goal to make things more complicated for cheaters, you will achieve one more simultaneously. A unique article with carefully selected visual components always attracts more readers and maintains their attention.
To be clear, none of this is going to eliminate the risk of plagiarism in a work. It's still important to check to see if a work is being misused and to deal with any infringements that may arise.
Value of Plagiarism Resistance
It is true that you will definitely facilitate reducing the scope of plagiarism if you take choosing the topic for your writing carefully. Besides, you will save hours and days you will otherwise spend on addressing the corresponding issues.
For sure, your priority should be the benefits your readers can get from your writing. At the same time, the topic is to be both exciting and thought-provoking for the readers and unattractive for plagiarists. Try to strike a balance between these two and you will kill two birds with one stone. It will be a win-win deal!