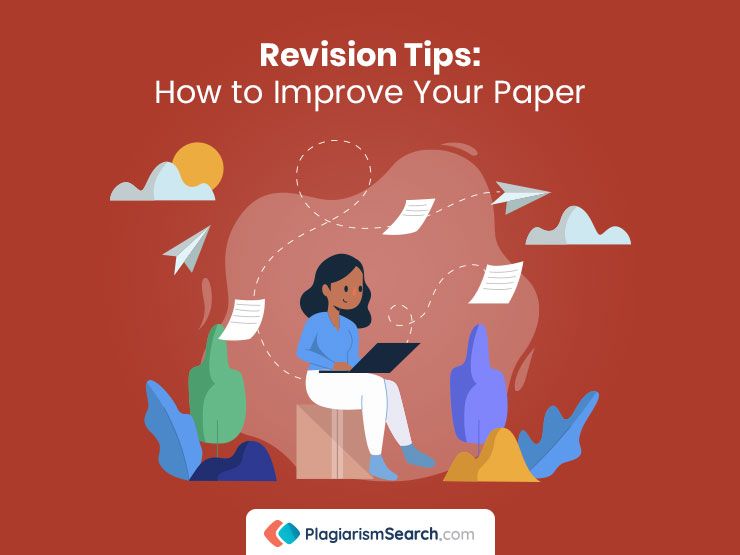 Revision Tips: How to Improve Your Paper
When a paper is sent for revision, it means that you have to improve it by means of editing and proofreading. Professors require students to revise the paper when students were not attentive enough or did not devote adequate amount of time to brush up the paper after writing. If you want to avoid revision in your academic writing, make sure you know the fundamentals of proper proofreading and editing.
Editing and Proofreading
Editing refers to the improvement of the content, structure, and general focus of the essay, whereas proofreading entails the process of improving grammar, stylistics, spelling, and punctuation. Both of these post-writing stages aim at improving your paper quality. However, you should keep in mind that covering these two processes simultaneously will not do any good. Therefore, separate the process: start with editing first and pay attention to how content and the paper focus could be bettered. Afterwards, switch over to proofreading details. In order to make sure editing and proofreading are done correctly, leave some time between the actual writing process and revision.
Tips on Revising Your Paper
Use grammar checker and spellchecker
There are many proofreading services online that can help you check your paper in terms of spelling, grammar, and punctuation free of charges. However, not all of them are really good. Our company's online essay grader will help you submit a premium-quality academic paper even if you are a non-native speaker of English or if you have a mediocre knowledge of English.
Trace frequently occurring typos
Print out your essay in order to be able to spot spelling mistakes and typos more easily. When checking your paper for typos and spelling mistakes, read the paper from the end focusing on each sentence separately without trying to read the essay as a logical unit.
Avoid unnecessary and weasel words
Omit unnecessary words that serve no informative meaning but only add up to the general word count limit. Particularly, eliminate the usage of irrelevant intensifiers, such as "very," "totally," "completely" whatsoever.
Weasel words are far worse as they provide unsupported data and facts, what makes sentences too general. For example, "many people claim…", " statistics show that…", etc.
Tautology refers to irrelevant and illogical usage of two words that have the same meaning, i.e. "great giant." The word "giant" already denotes something big, so "big" is unsuitable here.
Many students view commas as some essay elements that add up to its elegance. Actually, punctuation marks make the writing look clear and elegant, but only if they are used properly and wisely. Therefore, if you want to cut down on proofreading costs, find some punctuation textbooks or tutorials that will help you proofread your paper for punctuation flaws.
Check the consistency of spelling
Sometimes, you have to use proper nouns in your writing (for example, last names, first names, names of localities, etc.). Therefore, make sure these words are spelled consistently in the same manner. The same rule applies to checking the consistency of American vs. British spelling style.
Omit ellipses and exclamation marks
Ellipses ("…") should be used only in cases when you pinpoint to the cutting off a quote taken from an outside source.
Exclamation marks make an impression as if you are shouting when you write a specific sentence. Therefore, please avoid their usage.
Check whether you have cited sentences that do not belong to your own ideas
When you take some other scholars'/ researchers' opinions and put them into your piece of writing, make sure you attribute these viewpoints to people who put forward them. This is the best advice when you want to avoid plagiarism.
Pay attention to consistency of formatting
Make sure you adhere to the same formatting style throughout the paper. In particular, if you have to format a paper in MLA style, it means that all margins, spacing, indentations, headings, and subheadings should be formatted in MLA.
Editing an Essay with Ease
Work on the paper structure
If you think that changing the paper structure is too late after the essay is completed, you are mistaken. You can rearrange the ideas even if the essay is ready. You do not need to rewrite the paper or change its main focus. It is sufficient to check out whether the main ideas explored and discussed in the body paragraphs correspond to the central idea expressed in the thesis statement.
Further, check on the logical development of ideas. Pay attention to whether you use adequate transitions and whether they are helpful in conveying the idea properly. Also check out the consistency of tenses in the way you narrate events or present essay layout.
Shorten long paragraphs and wordy sentences
If you have long sentences or paragraphs, it is better to prune them, as they can be tricky in structure, confusing in content, and hard for following.
Avoid high-brow language and overly sophisticated terms and vocabulary
Using thesaurus is good but if you are obsessed with changing each common word with an uncommon one, eradicate this habit as soon as possible.
Watch out for repetitive words and structures
Do not repeat the same ideas you have already introduced. Delete repetitive sentences, ideas, words, and phrases. If you have deleted much text after such review, then make sure to provide some other information instead.
Working on Proper Proofreading
Ask for professional help
Our team consists of highly professional experts who have considerable expertise in both editing and proofreading. Thus, you can be sure that your pieces of writing will be checked thoroughly with our rate my paper service.
It will help you spot mistakes more easily and make corrections/ remarks/ comments directly on the page. Besides, spotting typos and errors is easier on a hard copy.
Double-check for proper capitalization and acronyms
Headings and subheadings of the same level should be written in the same way (either with or without capitalization depending on the citation style). If you use acronyms in your paper, make sure to interpret them if you use them for the first time. Any helpful formatting guide will help you learn how to do it.
Pay close attention to em dashes, en dashes, and hyphens
Many students mis up the usage of em dashes (—),en dashes (–), and hyphens (-). You should try to use some guides or tutorials on their proper formatting and usage to get to know when to use them. If you pay an extra fee, you may ask a proofreading service to do this job for you.
Check language setting of your text processor
Make sure the language in your document is consistent. It is especially important to check it if you are submitting a soft copy. Press Ctrl+A (select the whole text) and set appropriate language settings (either British, American or Australian English whatsoever). This will help you spot any inconsistencies in spelling.
This strategy will help you take a fresh look at your paper and see how separate sentences or paragraphs are comprehended.
Find a group mate or a friend with whom you can improve your writing skills
It is always better to motivate yourself when you cooperate with some other person. Therefore, find a study buddy. You could proofread each other's papers or pinpoint to each other's frequently made mistakes.