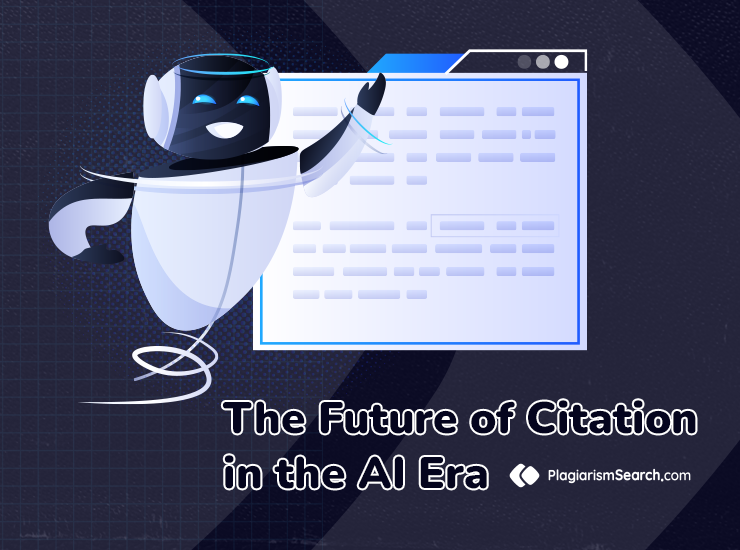 How Is AI Shaping the Way We Give Credit?
No one doubts a huge importance of citations. No writing without due credit for the work of others! No plagiarism! No copying! No AI content in the original papers! It is enough of 'no's' for now. What we are going to discuss is how AI can actually help writers and make referencing sources easier for them. It is dishonest and unethical to plagiarize both intentionally and unintentionally, and the consequences for these two kinds of academic crimes are very serious. An excuse of being unaware of some academic rules or citation standards is never accepted. So, the only way to avoid problems is to raise this awareness and get maximal help with proper citations from every possible source, including AI tools.
AI and Proper Attribution in Writing
It may seem that in the today's world full of information, generating precise citations has lost its value, but that is an absolutely wrong idea. On the contrary, the matter of citing sources correctly has become as vital as it has never been as plagiarism is the offence which terrifies all the students and researchers.
The only way to check the accuracy of citations used to be self-check according to the generally accepted standards of the required style, such as APA, Chicago, MLA, or any other. You could also request for help of your knowledgeable peers or even instructors not to miss any aspect. Now it is high time to involve the AI tools into formatting and referencing. If it is possible to make the process faster and easier, why not use this chance? What you can get is
automation of citing in your text;
assistance with formatting;
checking whether all the citations are properly given,
and this list is not fully complete yet.
Citation Generation and Management with the Latest AI Tools
The diversity of AI tools that can be applied for citation is impressive. Let us review only some of them for you to understand that you are never alone in your fight with citation issues.
Trinka AI
If you want a tool to generate or format citations for your research paper, thesis, or any other piece of writing, you can use Trinka AI. More than that, you can check whether the style of your paper is sufficiently concise and clear. Developed by linguists, it provides for top features that you will benefit from, such as suggested corrections, check of grammar mistakes, and for sure eliminating the risk of improper citations. This tool even has a built-in source database which you can use for searching.
Semantic Scholar
Tracking of your research can also be effective with the use of Semantic Scholar tool. It incorporates AI to arrange, organize, and index the required bibliography.
Scite AI
This is a helpful tool for finding sources and determining the proper citation style for a particular research. Formatting citations has never been so easy. Besides, this tool can identify the citation style of the source you are going to use. These are only some of the tools you can use to automate the process of citing and reference articles, books, manuals, datasets, websites, and various other sources in any style you need. You will find sources easily, be sure in the accuracy of citing, and all that can be done really fast. What can be more precious than your security and saved time. After writing is done, you should definitely use PlagiarismSearch.com to check on the originality of writing and possible matchings.
Guidelines on Using AI Tools for Citing Sources
After you have chosen the tool for your citation AI process, create your account there and start.
Things to remember:
Do not use the generated citations without double-checking
It is very convenient to use the help of AI tools, but there is no guarantee that there is a mistake in the generated citation. You will be in charge of the accuracy of every word in your paper, so you are the one who needs to make sure everything is perfect.
Check the latest citation style manual
After you have got your automated citations done, you need to study the tips from a traditional style guide to see if everything is in line with the academic instructions.
Do not trust the AI tool entirely
Relying on the power of artificial intelligence without any slightest doubt, you make a mistake that can have serious consequences. AI tools have a number of limitations which should be taken into consideration. Check which styles the tool can manage and which special features this particular tool has.
Frequently Asked Questions Related to Citing with AI
How to cite chatgpt if some AI-generated content was used in the paper?
In this case, it is a must to reference all parts of the text which are written not by you. If you fail to reference any non-original ideas, it may lead to an accusation in plagiarism.
Can AI fabricate in-text citations?
You can never be 100% sure that all the citations made by AI tools in the text are real. Some of them may be fake as the tool generates content on the basis of the information it has collected and compiled.
Is there a perfect AI tool for referencing?
You have to try several of them and decide on the one that matches your demands and expectations. Each of the tools has its own peculiar features, limitations, and special benefits for the users.
Nowadays, when the pace of life and technological progress is truly fast, it is essential to find effective techniques that can both save time and ensure credibility and integrity in research and scholarly work. The volume of available information is huge and it may be too challenging to manage citations manually for every piece of writing. The latest innovative AI tools streamline the process of citation management and help researchers and students handle their writing quickly and efficiently, simplifying their tasks and giving more opportunities for more in-depth research, leaving technical tasks for a machine. Still, we need to give you a warning again and again: too much trust and reliance on AI may result in failures! However, if you are sensible and careful in your use of the latest advancements in technologies, you will enjoy all the benefits and make use of the progress.