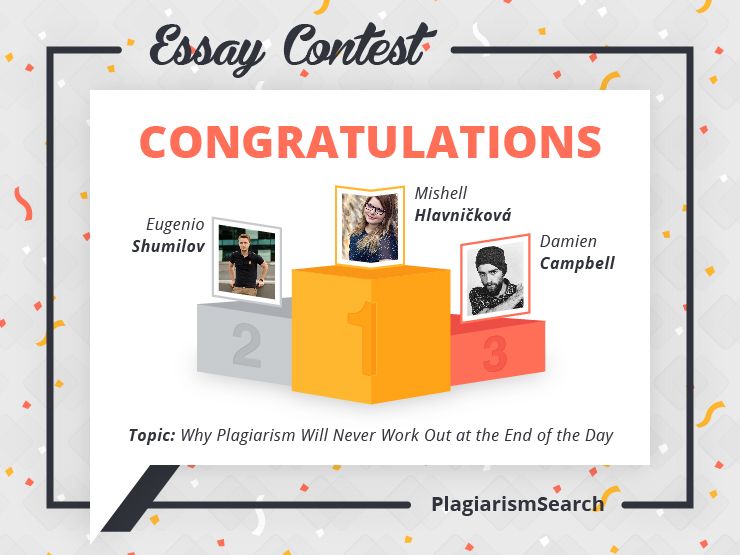 Congratulations on Plagiarism Prevention Day
Essay Contest Results
First of all, we, at PlagiarismSearch, would love to thank everyone who participated in our Essay Contest and contemplated on the topic "Why Plagiarism Will Never Work Out at the End of the Day". All of the essays are unique and interesting in their own way, we believe that all of the participants deserve the highest award. Yet, we had to choose and nominate three best essays and present their brightest insights in this blog post.
Moreover, PlagiarismSearch's team would like to thank everyone who helped organize and disseminate news about this contest all over the academic community and consequently spread awareness regarding plagiarism and its prevention. Many educational portals, websites, bloggers and individuals supported our initiative and thus made a great contribution to it. We greatly appreciate your active participation!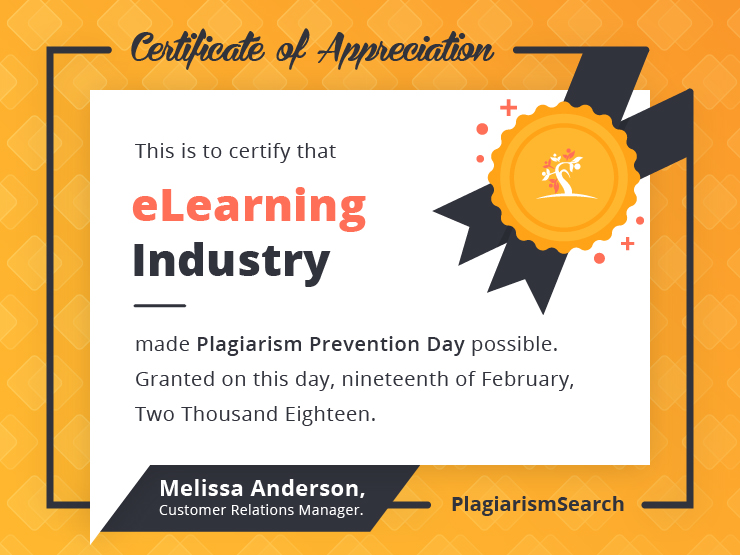 So, Why Plagiarism Will Never Work Out at the End of the Day?
You are welcome to discover the most amazing ideas on the topic from our winners.
Mishell Hlavničková, Junior, Prague, Czech Republic
"When I thought about plagiarism for the first time, I remembered being accused of 'copying' my classmate's essay on Modern Literature. I could still picture that day… Principal's office, chills. Young me seeing the good in others but always being on my own, not knowing how to explain myself nor how to protect my work. I felt paralyzed and weak under such accusations considering that I always write my own work.
Eventually, the teacher did not believe me, but that other girl got caught cheating multiple times after, so the justice prevailed. Did it make me feel good? Hah, not so much. It rather made me think that people tend to make bad choices in their lives and sometimes these choices discredit others. I learned to be more careful around people and at the same time hold to the thought of this world being more mindful and honorable, so such issues as plagiarism would never take place. Imagine the world where checkers are only used to make sure that everything was properly cited and formatted, and not due to the fact that all students are plagiarists. Final thought comes with the famous song by John Lennon, "Imagine all the people sharing all the w orld…" Only imagine…"
Eugenio Shumilov, Università degli Studi di Roma Tor Ver.gata, Rome, Italy
Student's responsibilities include not only proper and timely completion of tasks, but also their originality and absence of plagiarism. It is clear that by accomplishing academic work, students pursue such virtues as integrity, responsibility and trust. As a grown individuals, all students are required to have their own opinion on various issues and make their own decision based on sound judgment. Therefore, every work is essentially a reflection of those virtues and efforts. On the other hand, students who wish to take advantage of someone else's work without giving a proper credit should be subjects to punishment.
To my mind, such dishonest practices as copy-pasting from various sources could cause harm to your academic and professional reputation. Such issues as plagiarism never go easy. Plagiarism will never work out at the end of the day due to legal penalties it entails. Surely, producing original content might be time consuming but it definitely pays off in the long run."
Damien Campbell, University of Wisconsin-Madison, Wisconsin, USA
"As a content/blog writer I constantly face irresponsible attitude of my fellow colleagues regarding plagiarism issues. Personally, I cannot afford plagiarizing nor I would not resort to it in any case since the price to pay is too high. Why plagiarizing wouldn't work out? Well, the answer is simple. It is a dishonest practice that in any case will reveal itself in the most uncomfortable and dishonoring way. Secondly, plagiarism kills your reputation.
It means that by bringing out the original and interesting content, you reveal your attitude and your commitment regarding the work you do. A professional writer cannot afford losing the reputation over the copy-pasted material. Consequently, if your business runs smoothly and you decide to cut expenses on content management by plagiarizing someone else's work, your reputation is dead and it rarely becomes clean again, hardly ever."
Plagiarism Prevention Tips and Tricks
In any case, why Plagiarism Prevention Day is even celebrated? What makes plagiarism such a critical issue that requires 'prevention'? Why wouldn't people just stop stealing someone else's work?
These and many more other questions regarding plagiarism are answered in the following guides on plagiarism. This compiled list of the best practices and the most authoritative resources will provide you with invaluable advice.
Plagiarism Prevention Day as a Step Forward to Promoting Academic Integrity
Our team highly encourages you to celebrate original ideas, respect others by giving credit and be proud to be authentic!
Cheers to plagiarism-free papers!