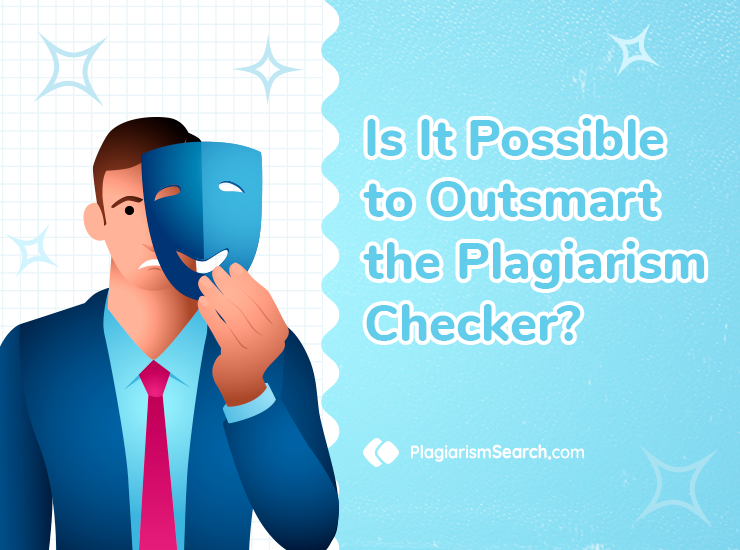 May You Trick a Plagiarism Checker?
Have you ever plagiarized? Ok, let's ask this question in a different way. Have you ever thought about using someone's ideas in your own writing? It seems doubtful that there is at least one person in the world who would say 'No, never!' Tight deadlines do not relate well with being busy. Time-consuming school assignments are almost impossible for those who life priorities are diverse. So, it seems evident that you have asked yourself or even searched for answers online at least once to understand how to beat plagiarism checker and borrow brilliant ideas without being punished for that.
Why Is It Risky to Plagiarize?
It is natural that the idea to get brilliant results without any effort is appealing to the students. However, copying may have tragic consequences and getting a low grade for the paper can be the least severe of them. Referring to someone's opinions without proper citing is an academic crime. If you do not use any reliable plagiarism checker, like PlagiarismSearch.com, you may put your studies, job, and future career at risk. The software schools typically use let the teachers get all details about the outside sources you have used and see the percentage of copied text in a similarity report. Still, you might be sure that no one can catch you if you manage to develop a strategy of how to avoid plagiarism detection and cheat your professors.
Why Is It Tempting to Plagiarize?
It is so much time-consuming to write papers that following all the requirements at school, you can spend all your available time on research and composing texts. Being in a dead end, students take plagiarism as a perfect idea which saves them from failure. Unfortunately, it is the idea which brings them more problems they can actually handle but they will get to know about that later. Using a bunch of sources or even a single one, a student puts the assignment together really quickly and easily. The paper looks great and they feel truly hopeful. Running out of time, they see no other way out except stealing ideas.
Copying someone's work, you try to save yourself from a failure. At the same time, you steal the reputation and money from the researchers, artists, reviewers, and other writers. You want to get to know how to pass plagiarism test and get high grade without actually working on the paper.
What do students often do to try and cheat their professors?
replace the words with synonyms;
change the structure of the sentences and structures;
modify the word count;
paraphrase the ideas with no reference to the actual sources.
Are these strategies adequate from the point of view of academic integrity? Definitely not! All of them imply stealing and they are equal in consequences with word-for-word borrowings.
What about paying to writing companies which guarantee selling original papers? Is that plagiarism as it is actually one of the easy ways of how to beat plagiarism checker, using the ideas directly from an experienced writer. The paper is based on research and authentic writing, but it is still cheating! If you mention your name in the title page and you say that you are the author of the paper, it is a lie when you use the work of another person. In that case, anti-plagiarism software is useless unless the writer is a cheater. A professor will not catch you in the stealing act, but there are a lot of negative outcomes and a huge potential of getting expelled from your college or university.
Are Plagiarism Checkers of Any Use?
What is the mechanism of plagiarism detection? Plagiarism checkers, such as PlagiarismSearch.com, can trace similarities between the papers with the use of special algorithms. Millions of word documents, websites, and databases are used for comparison between your writing and sources of information.
Even paraphrasing your content from a single website won't work since a plagiarism checker compares the structure of your paragraphs and headings to find similarities with other work. Only if you change everything, including the headings and structure of the original document, you can avoid plagiarism. For sure, incorporating original ideas into the text is a nice tactics, but you need to be sure that all the parts are relevant and in line with the main idea. It is also a breach of the principles in the basis of academic integrity, but it is one of the ways to cheat the checkers. Still, the technologies are developing continuously and it may happen that even your smartest tricks will not let you find the loopholes and steal the original content.
How Students Cheat
Here are some of the ways students use when they try to figure out how to plagiarize successfully:
Paraphrasing the original resources
One of the common strategies is to use a different language and paraphrase the wording to get a seemingly new text. So, borrowed sections may be mixed with statistics and your own original thoughts. Although checkers may omit the problem, the professor aware of a lot of relevant sources may recognize and flag cheating. Only proper citing may be a solution to the problem of originality. What is the best way to paraphrase? You take the idea from another writer and cite it with the supporting arguments you have. Doing all that according to the strict rules of formatting, grammar, and vocabulary use, you will definitely succeed.
Using direct quotes
Quotation marks give a hint to a plagiarism checker that it is not a plagiarized part. However, this strategy is fine only if the source is cited. Only saying whose idea it is and where you have taken it from can save you from plagiarism.
Checking the paper with a plagiarism detection tool
Even writing the paper without an intended use of other sources, it is important to check the paper for plagiarism to avoid accidental issues that might arise. In some cases, the ideas may seem to be fresh, but you could have already used them in your previous writing. Thus, the professor will trace self-plagiarism and that has detrimental effects. After final proofreading, check for originality is a mandatory step for every student who cares about high scores.
All in all, it is an indecent idea to try and beat the plagiarism detection tools. Instead, you can use their benefits for the sake of excellence in writing and high grades as you will be sure that the paper is free of any copied content. A plagiarism checker is not an enemy to defeat, but a friend ready to assist and guide on the way to good quality writing.