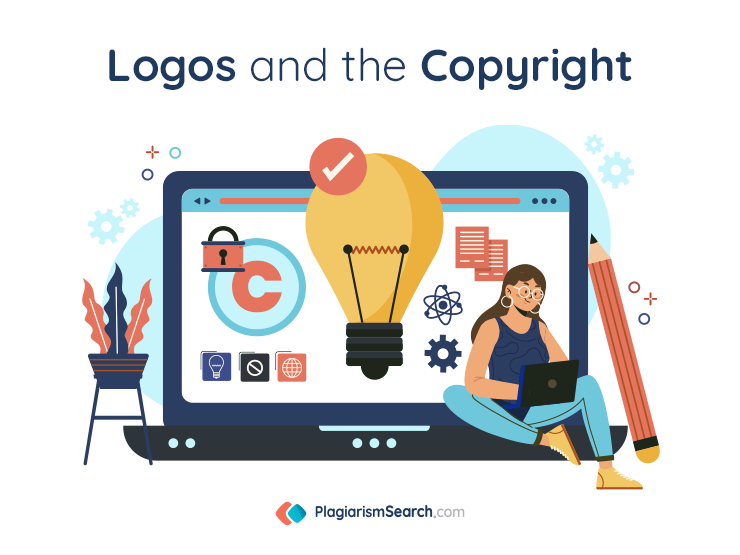 How to Copyright a Logo
Copyright can be defined as a legal right which guarantees the ownership of a creative piece without any permission to modify or use it by others. Can business do without a copyright logo? Actually, it can. However, in that case, it is challenging to stand out among many other companies or be sufficiently competitive in the market. Technically, if you have created a logo for your company, you have got copyright for it. What you can do is to register it as a trademark or attach a copyright notice to it. Although it is optional, you have a great chance to secure your exclusive rights.
How to Copyright a Logo and Protect It from Copying
Your logo is unique and it is a distinctive feature of your company just like your business name. Without it, it is more complicated to position your organization in the market. Unfortunately, everything that is not protected from stealing can be taken really quickly by unscrupulous people. With the help of such tools as PlagiariSmsearch.com, it is possible to check whether your website content or text of your posts is used somewhere online, but how all that happens with logos?
It may happen that all your efforts are wasted as some other company just borrows the logo you have created and claims it is theirs. There are a lot of businesses that do not care about the principles of honesty and justice. So, they copy and paste the logo they like as the property of their own brand and they do not care about the interests of your company. Only with the help of copyright or trademark, you can ensure protection logos and your intellectual property. All the rights in terms of exclusive use and distribution of your logo by you as an owner require legal protection.
Logo Copyright: Key Benefits
Any creative or intellectual work requires protection as unique things can easily get copied and stolen because of their high value. Learning how to get copyright on a logo, you get more information about how to ensure protection of the reputation your brand has. Using your logo on low-quality products, another company steals your image and ruins the trust the customers of your business have in what you do. You do risk that your business loses all clients although there is no fault from your side.
Do I need to copyright my logo? This question is common for business as according to the law, the artist automatically gets the right of ownership when the image is created. Still, dealing with the US Copyright Office is somewhat different from automatic rights assigned. If you have registered the brand image ownership officially, you have all the rights for protection enforcement in court.
Legal copyright makes it possible for you:
to preserve distinct and unique identity of your brand;
to avoid confusion in the market as more than one company may have their products with identical logos;
to prevent destroying the reputation of your brand;
to prevent any attempts of copying, adaptation, or borrowing other logos.
Are Logos Copyrighted? How to Do That?
You have paid a lot for the services of an inspired designer and you are happy about the result of your cooperation. Once you are done, you can proceed to the process of copyrighting your logo. We recommend doing that as promptly as possible. Here is how you can take three essential steps to deal with that:
Use the symbol ©
The symbol of copyright at the top of your business logo looks like ©. It is also possible to add a shortening Corp. or a term Copyright to denote that your logo is copyrighted. There is no difference between the methods; so, you can use the one that looks more visually pleasing for you.
Incorporate the publication date
Mention the year of first launching as the publication date in your logo. This way, you will boost the credibility of your business among the clients and prove that your brand does things in a professional and smart manner. As a result, the copyright for logo and name will lead to an increase in customer retention and loyalty.
Mention the name of the publisher
The availability of the name on the logo is a confirmation of the ownership rights, which in its turn boosts the image of your brand.
Copyright Logo Laws: Process of Registration
The process of registering the logo copyright is not complicated at all, but without the knowledge of the laws it is impossible to do everything right. Basically, you can use one of the two possible options:
conventional (manual) registration
online registration
Conventional registration is done through filling the forms and doing all the required paperwork. The process may be time-consuming as it takes approximately 8 or 9 months to complete all the procedures after the form hardcopy is delivered to the U.S. Copyright Office. There are a lot of formalities; so, it is essential to make sure that there are no discrepancies or inconveniences in the future because the receipt copy is lost.
Online registration requires entering details about you and your logo in the registration portal of the official website. It is really fast as everything is completed within 15 – 20 minutes. Do not forget to specify the copyright type and owner's full name. You have to pay a registration fee and submit it together with the logo in a digital file. You will receive a message that confirms all the details, but in most cases you may also get an additional call with some extra inquiries. Most probably, the process will be completed within 7 or 8 months. You can accelerate it if you make sure that you respond to all official queries sent via email or on the phone.
Generally speaking, it is much more expensive, slower, and less smooth to use traditional mail for registration applications. Online procedure takes less money, time, and effort as you do not have to submit your papers manually.
After you have got to know all the details of how to get a logo trademarked or copyrighted, it is time for you to consider this option as a practical solution for your business. Being afraid of sues and investigations, indecent businesses will feel less inclined to borrow what legally belongs to you. Either online or manual channels are fine when it goes about registration. Your personalized logo requires special attention and care and a small copyright notice can save you from numerous troubles and failures.