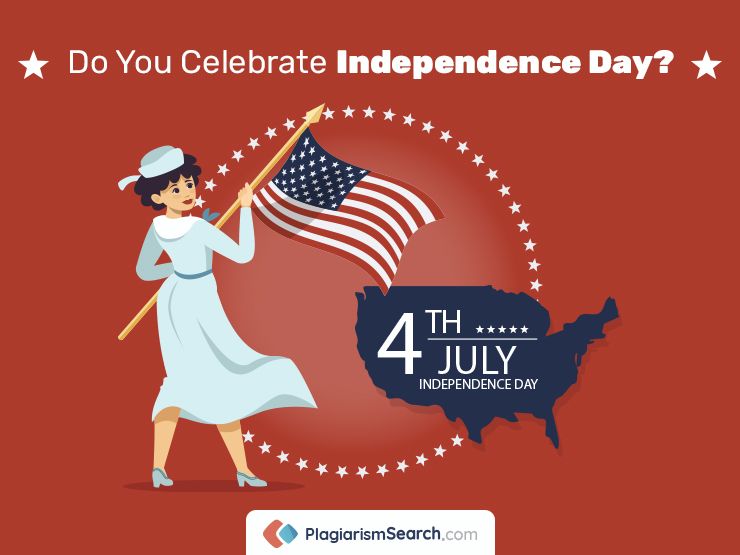 Is This Land Truly Independent?
Modern Perception of Independence Day
What does Independence Day mean to you? You may answer this question, even if you are not an American citizen. The focus of this article is on the independence gained by the United States, which is traditionally celebrated on July 4. However, July 2 is no less historical day as it predetermined the major step for a forthcoming great nation. 244 years ago, on the second day of the second summer month, the Second Continental Congress organized a secret voting for independence of United Colonies from Great Britain. What is interesting, among the representatives of the 13 colonies, 12 delegates voted in favor of independence, while only New York desisted from making the exact decision.
Logically, the second of July could have been the famous Independence Day, as one of the founding fathers, John Adams, said that that very day would be remembered as a milestone of American history. Being inspired and elated, Adams wrote a letter to his wife, which is cited by different generations all over again:
"The Second Day of July 1776, will be the most memorable Epocha, in the History of America. I am apt to believe that it will be celebrated, by succeeding Generations, as the great anniversary Festival. It ought to be commemorated, as the Day of Deliverance by solemn Acts of Devotion to God Almighty. It ought to be solemnized with Pomp and Parade, with Shews, Games, Sports, Guns, Bells, Bonfires and Illuminations from one End of this Continent to the other from this Time forward forever more. You will think me transported with Enthusiasm but I am not. I am well aware of the Toil and Blood and Treasure, that it will cost Us to maintain this Declaration, and support and defend these States. Yet through all the Gloom I can see the Rays of ravishing Light and Glory. I can see that the End is more than worth all the Means. And that Posterity will tryumph in that Days Transaction, even altho We should rue it, which I trust in God We shall not."
Yet, July 4 turned into the most transformative day, as the Declaration of Independence was approved and published two days later, transcending the clandestineness of such a quintessential move towards the New Nation's freedom. The Declaration itself was read to the general public on July 8, 1776 – another date to celebrate.
Should Americans Be so Proud of their Independence Nowadays?
There is too much unrest nowadays and it seems a new Revolution of justice and freedom should start in order to instill an original progressive way of thinking in the minds of every American citizen. In fact, all world nations need certain mental revolutions; while it is enough for some countries to change their general mindsets slightly, others are about to collapse without the radical metamorphoses. The major problem of humanity is that it is difficult to organize a revolution to overthrow the system or acquire the desired sovereignty without bloodshed. Similarly to the famous Boston Tea Party, something has to be destroyed or literally thrown away in order to lay the groundwork for a new phase of somebody's life – and in this case, it concerns the whole nation.
Despite proudly singing "The Star-Spangled Banner" every year on the Fourth of July, organizing various patriotic events, wearing flags all over their bodies, and indulging in relaxation with family and friends, not every American is proud to be an American. Though this nation is great, it also has great problems, such as critically unsolved discrimination issues.
The Paradox of the Nation of Immigrants
Perhaps, it is difficult to generate sane and at least relative equality when the nation consists of so many racial and cultural backgrounds. What is more, it becomes dangerous, when among all those races, one comprises the majority. I am talking about White Americans, of course. Logically, the majority wants to dominate over the minorities. However, in the context of the United States, those ethnic groups are actually huge, so millions of lives cannot be called a "minority" in any case. Even if some small communities represent rarer ethnicities, they should never be regarded as marginal. They typically discern five prevailing racial categories, namely White Americans, Black Americans, Native Americans and Alaska Natives, Asian Americans, as well as Native Hawaiian and Pacific Islanders, while the largest minority group consists of Latino people (en.wikipedia.org). These statistics can go much further if to count various ethnicities, frequently mixed ones, which are represented by immigrants.
A Vietnamese-American novelist Viet Thanh Nguyen came up with the notion of "model minority", which instigates many discriminative issues. He mainly explored the issue of inequality related to Asian Americans, but he makes it clear that the racial discrimination problem concerns every group of people, large or small one, which is not labeled as "White American".
So, what kind of independence are we talking about? Even if filmmakers continue producing movies, starring more and more African American actors, it only delusively "heals one wound", while others are left to bleed. Unfortunately, even in the contemporary world, hypocrisy prevails in the land that deems everyone "equal".
Freedom for All. Can a Progressed World Finally Achieve It?
Exhausted oppressed people still organize new and new protests, marching with such slogans as Black Lives Matter, and trying to prove that their identities should not be minimized or neglected. They are not better or worse, they are a part of American society, they are a part of humankind, like all of us. At long last, All Lives Matter and we should stop those conflicts and endless strife, as the pattern of thinking that embodies dominance of one race over another does not help to create a better world, but it ruins it instead.
Despite the fact that there has been a recent positive hype regarding the widespread celebration of Juneteenth, the Day of Emancipation and Freedom, instead of the Fourth of July, those minority clusters, even being fully legitimate citizens of the United States, still feel trapped and enslaved within their own minds, they are still discriminated by others from time to time. There is a simple but still unsolved question, "Why on earth would anyone think that they deserve independence more than others? Is it a syndrome of an innate overgrown ego?" Putting aside such abysmally misinterpreted and misapplied ideologies as national socialism, these questions should be answered by minds who are not inclined to cruelty, who are striving towards global justice. Let us cherish intellect, creativity, general usefulness, and let us stop judging a person by his or her ethnic and racial identity. The more people will discover the ability to follow such simple virtues, the more chances each United States' citizen will get to feel free and safe in their own country.
Possibly, not enough time has passed after all those horrible wars to make us understand that it is wrong to initiate new ones… The saddest truth might be that people cannot live without wars and they are also a part of the world's population "purification." Is it even possible to eradicate this striving to fight from human genes?
Who knows, maybe one day we will be able to see a dreamlike, utopian New America where discrimination does not exist. If one noble example can be set, other nations will be able to follow it, gradually becoming genuinely independent…
What Random People Think About Independence Day
Alyson, Texas "I like to spend this holiday with my family and friends. However, I understand it is not about picnics and hanging American flags on your house; we should delve deeply into its meaning and understand the meaning behind real freedom."
Dwayne, Illinois "It would be weird to wake up one day and realize that you are not independent. Several years ago, I had this nightmare that I remembered. In my dream, people in Nazi suits came to us and said that the majority of our nation had been turned into slaves… Perhaps, there is some hidden phobia of slavery in my head. Independence is something you should gain within yourself."
Diego, California "Though I represent Hispanic minority, I like living in LA, I like my job, and the United States is my beloved home. I want this nation to be prosperous without people's sufferings. Even if we have grim experience of the past, we can start building a common happy future for every US citizen right here, right now."
Brad, Maine "What do I think of Independence Day? Well, I love this holiday because I feel comfortable in this country. I only hope that more people will feel this way."
Kylie, Pennsylvania "My family always wears red, blue, and white on the Fourth of July. We also cook delicious homemade dishes, such as grilled reuben sandwiches, pizza pies, Californian-style baja shrimps, bourbon ribs, and numerous desserts. My children especially love star-spangled cupcakes and ombre Independence Day cake. Oh, sorry, it's not about food hedonism, I just adore cooking."
Anna, Florida "If you know for sure that you are strong and independent, that no invisible ties make you pretend someone else, then celebrate your independence, no matter the date!"
Elijah, Arizona "I think that every person should be independent, no chains attached! This year's celebration will be different for me because no one told that the annoying pandemic is actually over. To stay safe and sound, I and my band organize online concert dedicated to Independence Day. Among the American attributes, we will wear star-spangled masks, except our front man who also sings."
Last but not least, let us sing a song that reflects not only the beauty and greatness of the United States but also its decent striving for Equality that is not a mythical one.
"This land is your land
and this land is my land
From California to the New York island
From the redwood forest
to the Gulf Stream waters
This land was made for you and me…"