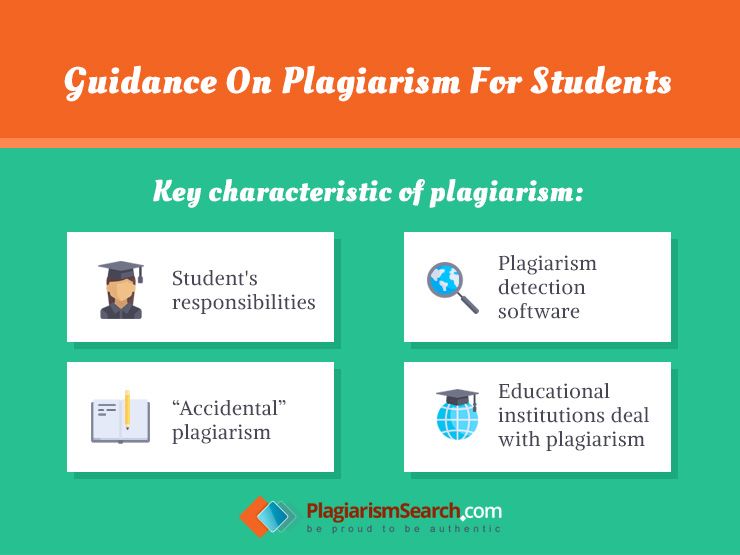 Guidance On Plagiarism For Students
Plagiarism is an act of copying another person's work and presenting it as your own. It's a serious academic offense that in some cases can even get students expelled from an educational institution. This plagiarism tutorial will help you to get a better understanding of this concept. There are different forms of plagiarism. Namely:
self-plagiarism
collusion
copying
misrepresentation or fabrication
buying essay
intolerable proof-reading
You can address any plagiarism guide and all of them will tell you that the key characteristic of plagiarism is an improper acknowledgment of source material. Plagiarism has to be taken seriously because it influences the reputation of University degrees in a very negative way. Here are top 4 things that our plagiarism tutorial wants you to know.
Responsibilities of the student.

When writing papers at educational institutions students should provide clear references to all materials that they have used. A piece of work that was plagiarized can't meet this criterion by definition. Before submitting their work students should read them thoroughly and see that they reference all the materials which were used while writing. Good referencing is usually characterized by good marks, while bad referencing never leads to good consequences for students. You can consult this plagiarism guide or that plagiarism tutorial, but wherever you look, you will find that precise referencing is a must.

"Accidental" plagiarism.

Serious cases of plagiarism lead to serious consequences, but there are also cases of so-called "accidental" plagiarism, which means that the student has paraphrased a certain piece of the text without giving it a proper credit. Of course, when students enter colleges or universities, they haven't read a plagiarism guide and have no idea about the peculiarities and different types of plagiarism. It is a job of the educational institution to develop a sympathetic approach to plagiarism on one hand and to ensure that students understand all the requirements to plagiarism on the other hand.

Plagiarism-detection software.

A lot of schools are using plagiarism-detecting software to check papers of students for plagiarism. One of the popular systems is Turnitin. The decision about plagiarism isn't carried out based only on the data shown by Turnitin and similar plagiarism-detecting software because academic judgment made by the tutor is still of the primary importance. If sufficient grounds to accuse the student of plagiarism were detected, then only their work will be labeled as plagiarized.

How educational institutions deal with plagiarism.

Here's how the plagiarism is dealt with:
Once the student is suspected in plagiarism, the Academic Integrity Officer will make a proper investigation considering all available evidence.
If Academic Integrity Officer identifies plagiarism they will invite the student to defend themselves at the Academic Integrity Meeting.
The level of plagiarism will be determined and the respective actions will be taken to deal with the situation.
We hope that our plagiarism tutorial has helped you to understand the different facets of plagiarism better.