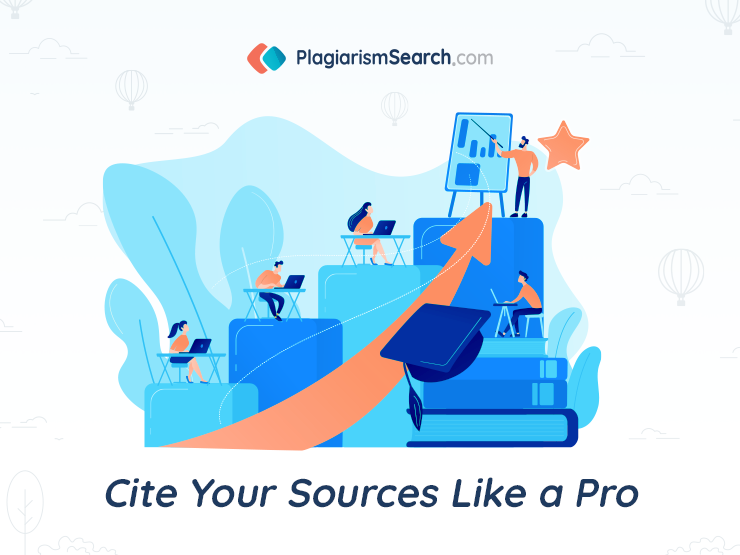 Citation Definition and Meaning
'It would be great if I could write my essays without any citations. Citing makes me so much bored!' For sure, your life would become much easier if you did not have to look for sources or learning the rules of formatting. Still, it would not be fair, right? Let's be honest, if you know how to cite sources it means that you give tribute to the authors of the previous studies. If there is no reference to the original writers, no professor can grade a paper with borrowed ideas and give excellent scores. Writing is a skill that needs improvements, so it is time for you to know the answer to the question, 'What is citing sources? and 'How can you make it right?'
Citation Definition and Meaning
Writers add citations to their papers to demonstrate that there is no direct copying from any sources. The primary purpose of citing is to indicate the location of original information. Thus, the readers get to know how to find the book they need for further information on the topic and how to refer to some part of research in another paper. Actually, it is possible to draw parallels between a citation and a hyperlink.
At the very beginning of research, biblical scholars had to distribute knowledge to the public and citing was the most effective technique of doing that. People had to know where they could find the verses and chapters in the Bible. Later on, Protestant reformers introduced the ideas of democracy and transparency of knowledge. So, every word of a priest could be double checked in the Bible via the references to the original text.
Therefore, if you cite some source, it means that you identify some published works. You know where you have taken the images, ideas, figures, statistics, and other data from and you can share this knowledge with others.
How Do Citations Work?
In general, providing information taken from your research, which you would not know without another source, requires documenting from where it is taken. You assume that the readers do not know these details either.
Hence, you are supposed to reference the used sources if:
you have paraphrased or summarized the ideas from a certain research
you have introduced statistical data from the work of another author
you have provided a direct quote in your writing
you refer to a certain image, video, figure, or graphics
Locating sources, you need to ensure thorough documentation of the materials, mentioning the name of the author, the title of the previous paper, the place of publication and the publisher, the date of publication, and the page number from where particular information was borrowed. Proper citations should include the DOI number for electronic materials and URLs of the consulted websites. To know how to properly cite a source, you need to figure out which style you have to use as the requirements to formatting differ between them.
What Is a Citation? Challenges of Citing in Different Styles
Different areas of research require specific styles of referencing and citing. If you are not sure which style you are supposed to use, it is better to check this with your professor not to make mistakes. However, it is generally accepted that particular disciplines dictate the following styles of citing:
APA referencing is known as one of the versions of Harvard style with similar guidelines and citations in brackets which include brief details on the author and the date of publication. Full citation is presented in the reference list. Website citations have their own conventions with no retrieval date or access info included.
Cite my sources! Students often send this request to writing companies when they get assignments that require Turabian or Chicago style. There are two main options for citations in this style.
A numbered style of notes and bibliography with full reference in the endnotes or footnotes. A list of bibliography includes not only the sources referenced in the text and also the readings used for general understanding of the topic.
An author-date style with parentheses similar to Harvard references. A list of references comprises only the cited sources.
To know how to cite a quote effectively, you have to check with your instructor which of the options to use in your work.
In MLA style, you refer to the ideas of other authors with the help of parenthetical citations with the included name of the author and page you use.
OSCOLA references have special rules of dealing with statute and cases. They require footnotes for in-text citations and a huge set of abbreviations for the primary sources.
In each particular case, your instructor gives particular instructions and you tell to yourself, 'So, I have to cite my source apa' or MLA, or any other style, and that requires more effort taken to figure out all peculiar features of this referencing.
Authority and No Controversy
As soon as you learn how to quote an article in an essay, you can explore the whole world of discussion and dialogue with the readers. Get to know everything about how to make a reference page and make sure that all voices sound equally load in your paper. You introduce citations in your essays not to emphasize that someone's authority prevails, but to give proper credit to all sources. The main function of a citation is to lead readers to the author and let them get access to the original information. Thus, it is your duty to know how to cite sources in an essay and refer to the right authors.
Thus, figure out which format is required in your writing and read through all the guidelines. You may even use an online citation tool and get help with formatting the used sources. Do you know the answers to the questions: What are citations in writing and how can you search for info needed for creating proper sentences? A combination of using a reliable tool and your knowledge of formatting styles will make it possible for you to be a pro in citing!