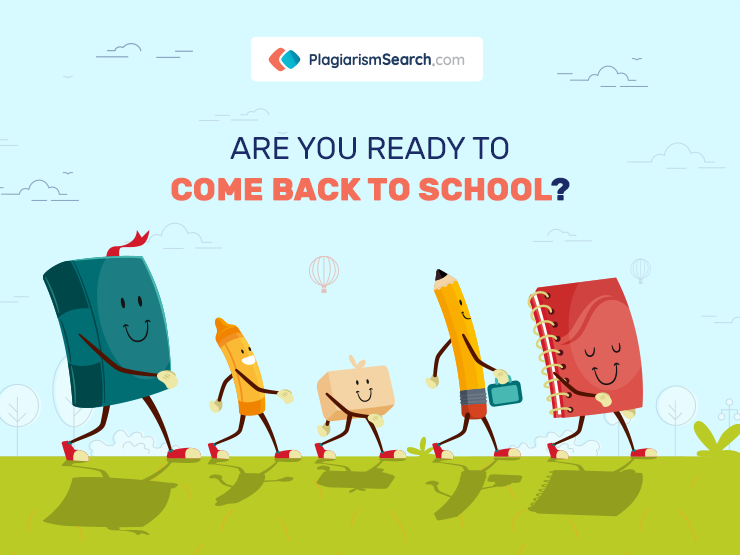 Will Going Back to School Never Be the Same Again?
October 1st, October 2nd, October 3rd… then suddenly 22. Are you enjoying your autumn, gathering new fruits of knowledge?
Yes, I know what you think, it is not a perfect time for irony. Beautiful September has passed away (until next year, which will be, hopfully, a better one), and many of us are still dwelling somewhere "between the worlds", between reality and strange dreams… We all feel "half-asleep and incomplete" as Backstreet Boys sing. However, our lives do not exist within songs, they are real, and they are under the overwhelming and seemingly never-ending Threat: Covid-19. Well, you are lucky if living pandemic nightmares are not about you.
In this article, I will mostly talk about education in the context of the pandemic. I will reveal the thoughts of teachers and students about the academic world that turned upside down as practically everything else. The beginning of October is moving on, and we are still talking about the "Back to School" season, as it has not occurred yet for real…
October. The Month of True School Vibes Has Been Unwillingly Transformed.
Many schools and universities, especially those who regularly greet a variety of international students start the Genuine Academic Year, as I would call it, in October. September is usually a more relaxing month even for those educational establishments that open their doors right on time – traditionally immersing in the academic dimension, introducing new syllabi and extracurricular activities to freshman, sophomore, junior, and senior students. After having survived move-in days and icebreaking periods, the serious studying process should begin! One month is enough, isn't it? Unfortunately, Covid-19 has affected the schedules of both teachers and students.
Despite long summer preparations, even highly experienced educators hardly conceal their anxiety, going above and beyond to create the equilibrium within the shattered academic realm that looks as if it will never be the same again. The major goal of education should be retained – to provide all the students with effective learning environments, but this time, safety remains above all.
Besides preparing new educational programs, every school struggles to find an ultimate way-out to keep the students immunized, reducing the transmission of the malicious virus to a minimum. Hence, even if you go to school every day, choosing "live lessons" instead of online learning (of course, you have this option, if the virus situation in your institution is not dangerous), you have to face the risk and understand that it is ridiculous to "act like a potato head" instead of following the simple (but often life-saving) rules: wear a new mask every day, wash your hands more often than you used to before, use sanitizers (paying attention to its ingredients, it must contain no less than 60% of ethyl alcohol), and avoid touching your face.
Why Is an Absolute Online Learning Ineffective?
Some of you will say that considering all those irksome precautions and grasping a daily high risk of being infected, isn't it better to stay at home for everyone? Let's work, study, relax only at home, having limited meetings, seeing only the closest people. However, all those months of strict quarantine revealed our striving for socialization and a change of scenery. It appeared to be that a human being is more social than even an extremely introverted individual believes it to be. The paradox is, despite reveling in the moments of "creative loneliness" and cherishing our private space, we go crazy when we are left alone for a long time.
Therefore, the human factor always plays its ironic role. It has puzzled educators who are questioning themselves, "Should we limit the studying process to sheer online learning or should we risk our health and come back into the classroom for the sake of genuine education feel?"
The majority has opted for a hybrid model of education to focus on safety as well as to make students feel that their studying process is not much different from the typical one. Students have to enjoy their best academic years despite all the horrendous Covid-19 predictions. However, according to the statistics, North American educational establishments have been more vigilant, not allowing to start offline classes in many schools and giving preference to online learning instead. Furthermore, Kenya decided to take even more radical measures, having closed its schools until 2021.
On the contrary, many European countries, such as the Netherlands, have actively resumed the new academic year, so their students have been already studying for one month. Therefore, there is no ultimate answer to the question, "Is it better to choose online learning over the typical studying process in schools". The decision also firmly depends on the general epidemic situation in each country, as some areas have taken the disease transmission under control and others are still struggling with their priorities when rates of the infected individuals are suddenly growing overnight. What can we do to prevent the spread of the disease and allow students to hit the books without the unexpected interruptions? The following tips can turn into little insights for students, teachers, and parents.
Advice # 1: Pay Attention to the Most Vulnerable Individuals
The crisis that happened due to COVID-19 instigated many useful thoughts, making our minds more resourceful generators of almost life-saving ideas. However, it is still challenging to come up with the definitive model for everyone, keeping in mind a simple fact "what works for you might not work for me." Teachers have to realize that certain categories of students have a weak immune system, while others have psychosocial issues, such as financial hardships and family troubles, and all of them need special approaches to combat the virus both physiologically and psychologically. Students who are more prone to diseases should be isolated in the first instance. Apparently, remote learning is the most appropriate way out for them. In contrast, there are also those cases when fragile students cannot properly learn at home due to unbalanced family environments. Consequently, they have to be provided with special isolated dorm rooms and all the necessary equipment and technology for studying. They also should be allowed to interact with a limited number of their peers.
Students who are usually healthy and mentally stable (I know it sounds pretty harsh but the truth remains the truth) should get back to learning in the classroom under stringent supervision. Meanwhile, they should meticulously follow all the healthcare measures to reduce the risk of Covid-19 transmission. Thus, this is the primary task of educators to discern the most vulnerable students and create separate curriculums for them.
Advice # 2: Make More Entertaining and Less Lengthy Subjects to Keep Students Immersed
If the accent is still on online learning and there is nothing you can do about it, then the main advice is to create an enticing diversity within the educational content. Make the learning process as interesting and interactive as possible. When students are sitting at their computer screens for long hours, their attention span is being diffused and the information, despite its relevance, is not absorbed by their brains properly. If you give long lectures and then torment the students' minds with challenging practical exercises, the risk of the major burnout is higher than getting infected by Covid-19 (especially if you are on the other side of a computer screen). Thus, avoid spending long hours, presenting various tiresome seminars. The only result you will get is Mass Fatigue. You, as a lecturer, will get exhausted as well (as you have been preparing the tons of information on your own, right?). The common solution is to rely on miscellaneous interactive educational platforms, creating quizzes, uploading thought-provoking videos, excerpts of fascinating literature, musical pieces, etc. Limit each video conference to 45 minutes maximum. While it may be hard to control all the work accomplished by your students individually, you will see a drastic difference when they are interested in the material you present. When a student is absorbed, he will produce truly successful results. Sometimes, it encourages a young mind to go the extra mile and come up with creations that will positively surprise you.
Last but not least, you should remember that a seamless teacher is a psychologist who communicates eloquently, relevantly, and listens attentively. Students greatly appreciate it when their opinions are valued. It boosts their self-esteem and enhances their craving to be even more resourceful, only better versions of themselves.
Advice #3: Encourage Students to Organize Creative Extracurricular Activities
If you recollect the movie "Dead Poets Society", the teacher John Keating chose unconventional methods to inspire his students. Even if those approaches were not approved by everyone, it helped students to get together, unravel their creative potential, and make their attitude to life more profound. I do not encourage you to play "Dungeons and Dragons" with your apprentices, but you can come up with your own inspirational models of education that will enlighten young minds, showing them alternative paths of self-development. In our highly tolerant modern times, the image of a pedantic teacher is outdated, it is perceived even more negatively than some decades ago. Thus, the more creative you are, the more chances you have to curry favor with all of those youngsters you teach. Of course, you can encourage students to organize various witty interest clubs on their own. However, it is much more beneficial for you as an educator to serve as an example of resourcefulness and authentic thinking. Only keep in mind: there should be a perfect equilibrium between semi-traditional and alternative approaches. Going to the dance clubs with your students may be too much (even if you are a young teacher yourself). Sorry, I forgot that Covid-19 banned all those ardent rave parties.
Advice #4: Are You a Parent of a Student? Value the Possibility of Higher Engagement.
You might say, "I have been engaged with my child's education since the start of the doleful quarantine." However, your attitude to it is decisive. You may feel "forcibly engaged", while you should find more positive aspects in this opportunity to spend more time with your daughter or son. It is especially important for elementary school students, as those children have only recently started to make significant life discoveries, gaining precious school experience, going through ups and downs. Educators should also endeavor to enlighten parents on the importance of involvement in their children's school life, which has temporarily become isolated. Indeed, teachers play the pivotal role again – even in relation to parents of the studying-during-pandemic "generation". The enlightening "burden "on their shoulders will be rewarded in the end if every teacher keeps in touch with students' families, carries our surveys to understand what approaches are effective and what methods initially fail. It is the teacher's responsibility to keep the curriculum up-to-date and make the educational process advantageous to everyone.
Advice #5: Make Students Feel Protected and Happy Despite the Isolation Challenges
Even if you have nerves of steel, it is difficult to overcome stress and pressure, when your normal life has suddenly acquired a tint of "permanent anxiety", as you are constantly worrying about your health. When you are simply going to work, walking along the streets in your neighborhood, going shopping – you are staying alert, suddenly thinking, "Is this person who has just walked by infected by Covid-19 or not?" This thought has become typical of mature people who "saw things, knew life…", and can you imagine the thoughts of frustrated students? This academic year's freshmen are particularly susceptible to a sense of loneliness as they encounter empty halls, cannot normally socialize with their peers, find like-minded individuals, and express their knowledge and skills to the fullest. Many young people tend to be shy and self-doubting, and their insecurities may not be visible at first. This way, many psychological methods should be applied to each new student individually. Contemporary freshmen crucially need mentors to work with them and pay attention to their problems. You do not want to come back to school and see so many upset and indifferent students. The support of educators should be immense.
The harshest thing is that the virus has only aggravated other burning issues that are affecting the mental well-being of young people. Some still suffer from bullying, racial and sexual discrimination; some are trying to be ecologically friendly, discovering so many awful consequences of climate change and general planet pollution. Students, who are trying to be socially active, are becoming even more anxious, as they cannot get involved in so many ecological projects and volunteering – so many countries that need humanitarian aid and energetic volunteers have closed their borders. It also means that the options not only for full-fledged education but also for the fulfillment of decent self-development strivings are extremely limited.
Positive Thinking is Trendy Again
There is nothing we can do besides supporting each other with positive thoughts, good advice, and inspiring activities, even if it all does not transcend the Online Dimension. What can you do to make your students feel safe and happy? Do not overload them with tasks, and do not intimidate them with low grades. Academic ratings do not matter so much nowadays. Why not make every student feel valued, heard, and supported? While it sounds like a motivation to create some utopian equality, it is not like this. If a student does not want to study, you cannot call him a valedictorian. Still, you can create such conditions where every young mind has a determination to learn fruitfully and transcend the boundaries of knowledge within themselves even not crossing the boundaries of one's rooms…