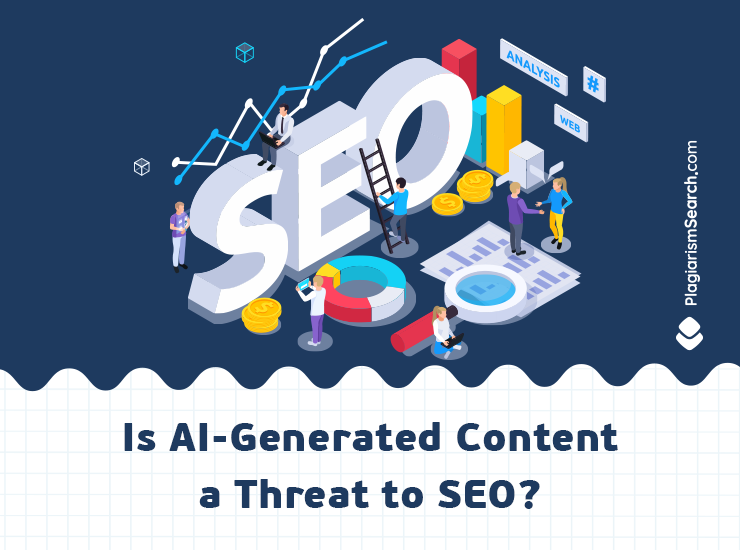 The Risks of SEO Optimization Using AI
You want your business to fly high in search traffic, but it faces a failure to rank and it gets less revenue that you have been expecting it to do. Take a deep breath. Try to analyze which SEO strategies you have been using lately. Are they just basic approaches you have not changed for years? Do you believe that you can get by with them in the world that is completely new with the AI technologies in all the spheres? You cannot play the same game and win. The rules have changed and it is high time for you to consider the pros and cons of SEO artificial intelligence.
Is Using AI Plagiarism in SEO?
Would you ever believe that it is really easy to generate a huge text or dozens of business-related images within a few minutes? Now it is possible but there are a lot of concerns related to using the outputs of AI writing. Now you are worried about the ethical and legal standards of AI use as they are not settled yet. More than that, you are not sure about the answer to the question: Can google detect AI content? It goes without saying that AI SEO optimization would be a great solution for your business both now and in the future.
Is there a definite answer about using AI-generated content for Google rates? Actually, the position of Google has not been stable. One of the ideas concerning the originality of AI-content is that it is a spam that should be penalized. Another one is that detection of AI-generated content requires manual actions and it should bring value to the users, otherwise it should be eliminated. In Google blog, it was said that it is a violation to manipulate search results online with the use of AI, but if the content is useful it does not matter which way it was generated.
Actually, the norms of AI use are not settled yet and there are more disclosures to come. Judging the use of ChatGPT for SEO, Google has taken a rather neutral position. Now it is the output, not the source that matters.
Artificial Intelligence in SEO
Boosting the rankings of a website gets much easier if SEO and AI are used together. What is the main aim of present-day SEO? It should deliver the needed relevant content, putting the user first.
What does effective SEO comprise now?
Using proper keywords is still important.
Referring to context. You should take into account the intent the user has while making a query.
Referring to concepts. You should understand the idea behind the query.
Customer satisfaction. Do you know which answers the customer expects to get?
If you use the maximum number of keywords in a row, the result will be poor. What you actually need for high ranking of your content, you require an efficient strategy of optimization for search engines powered with artificial intelligence. AI for SEO is a great solution which gives positive experience for the users.
Ways to Improve Website Ratings with AI
Keep us with the latest SEO tactics with the use of AI in SEO.
Discover hidden opportunities in SEO
You have not tried all the opportunities yet, and AI-powered tools will let you find them and get an insight into their use. Thus, you will understand which topic ideas and keywords you can take and how you can link them to craft a new strategy of boosting your SEO.
Create new content
Hit the mark with new AI-generated content and improve your SEO around the keywords you have chosen. Make your content specific for your target audience and the users will be satisfied with your personalized approach. You no longer care only about ranking, what you prioritize now is the ability to be helpful.
Optimize content with AI
Your previous SEO tactics related to backlinks, internal links, and keywords still matters, but you will be able to figure out the intent of your readers who search for particular information.
Do voice search optimization
Ignoring the voice search SEO aspect, you lose a lot. The AI tools can recommend you to make new changes in the tone and complexity level of your writing. Thus, the content will be more conversational and competitive on the market.
Save the efforts and time
Your team can be engaged in more responsible tasks while AI-powered tools take care of creating content for your websites.
Risks of Using AI in Search Engines
It sounds weird, but there are certain disadvantages of using AI-content as well.
Low originality level in the search results.
The algorithms are trained with the use of the already used content. Thus, a Chat GPT or some other tools may produce texts similar to the ones already published before. In that case, differentiation will suffer and there will no longer be space for originality or diversity in the results users get while searching for the information.
Over-optimization of content.
In some cases, the texts may be hardly readable as the SEO tactics executed poorly bring to stuffing of the keywords without actual increase in efficiency. Possible consequences can be decrease in traffic and frustration of the users.
Huge quantities of low-quality content online.
Users may find it difficult to see really useful content online among the texts with potentially incorrect information.
Being cautious in using AI is the best advice we can give. Not only plagiarism detection tools as PlagiarismSerach.com have developed special tactics of differentiating between the human and AI-generated content. Google can easily see whether the SEO used the help of the artificial intelligence to improve the search engine rankings.
If you use AI writing, you should not take it as it is. Actually, it becomes effective only after checking the accuracy, in-depth editing, check of the tone, and even correcting some unintelligible passages. It is hard to predict whether the technologies will advance so that there were fewer limitations in use of the AI-content in SEO.