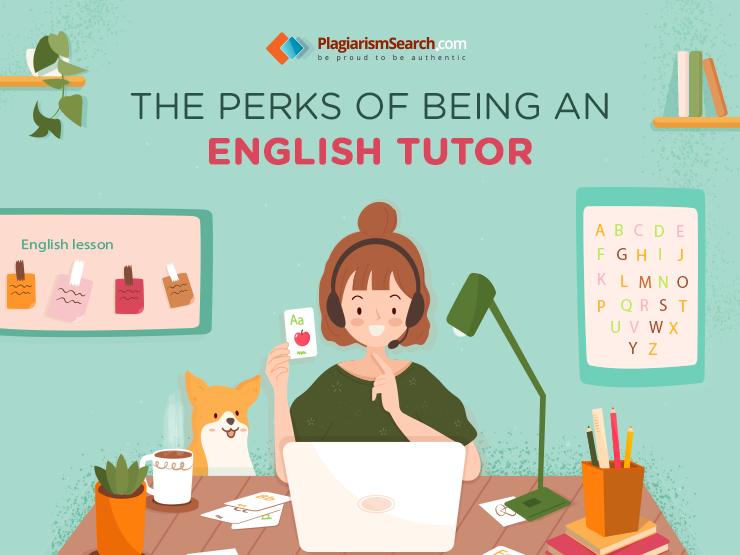 The Perks of Being an English Tutor
How My Pencraft Fever Made Me An Astute English Teacher
I received a call today from an unknown number. The man on the phone said, "Hello, my name is Mark. I heard that you give private English lessons." I answered, "Yes, I teach English. "The caller then asked, "What are your approaches to teaching, do you use well-known methods or can you offer your own compelling ways of tutorship?" I replied, "I combine both well-tried methods and individual approaches. I cannot use the same workbooks for everyone. Each student is unique."
My potential student laughed joyfully, "Then I think I will choose you as my tutor. I really disliked the way my school teachers neglected individuality. I hope I will learn English at last."
"Thank you for your trust. I will try to make our lessons enlightening and creative. Should we start tomorrow?"
"Yes, of course. Looking forward to it."
This call made me come back to tutorship again. By the way, we did not speak in English, but it is not necessary to mention the original language, you can invent your own version in your head. Anyway, the details matter when the lesson begins!... But now I would like to tell about my ramblings before I chose to become a full-time tutor once and for all.
Never Do What You Hate to Do, Even if the Salary is High
Mark phoned me when I was completing one of the tedious translation tasks related to business management, trying to pluck up my courage to fulfill it until the deadline expires. Being linguistics' lover, I usually avoid projects where creativity is not involved. The sad truth is, sometimes we have to take on not very inspiring responsibilities for the sake of earning some money. All creative minds know that it is extremely difficult to earn a living if you focus on writing fairy tales. Okay, let it not be something that came from the made-up "Far Far Away", but I think you know what I mean. Owing to the particularity of my interests, my career path has been quite thorny. I tried to work as a radio presenter, which was self-fulfilling at first but then there was too much politics. I only dreamed about working at the radio or TV channel in order to enlighten people on creative matters, interview artists, musicians, writers, and participate in live broadcasting of cultural events. I strived for arts; I obtained the facts of life, quite an unartistic life, to be honest. For me, there is no such thing as "too much" when you talk about creative self-expression or belles oeuvres made by others. I wanted my life to reflect aestheticism, so after my mass media experience, I delightedly headed to my next work in an art gallery. Sadly, my subsequent disappointment waited for me just around the corner. Why, what happened? Let me tell you…
Don't You Dare? Art is Rare!
People do not visit art galleries and museums as often as they did in the past. While I was so happy to work in the atmosphere among classic and post-modern paintings, as well as various conceptual exhibitions, they were hardly in demand in my local town. Of course, I did not have to give up to continue my aesthetic searches if not in Louvre but at least in more tourist-oriented cities. However, these were tough times and I had to make ends meet, so I decided to seek work in accordance with my qualification. My diploma states that I can be a linguist, a translator, and a teacher of English language and literature. I knew that a decent translation is usually generously paid, so I chose this path. And now, striving translators, who are only newbies in this sphere, I would like to assure you that you will not always translate what you want, you will translate what your client will order. In my case, I would love to indulge in literary translation. However, such orders are quite rare. Moreover, in order to practice it meticulously, you have to translate an abundance of books on your own for free (just to get this precious experience, just to become more eloquent than you are now). You also have to enter numerous literary competitions, attend summer schools for translators, join miscellaneous writers and translators' associations, and even cooperate with co-translators, learning from them and sharing your practical skills. That is where many beginners lose their grip or simply give up, especially if your main purpose is to earn a living. Therefore, commercial translation must be your major choice. Some profitable orders are so boring that it seems you are about to chew your own brain to revive it again… it involves so much monotonous toil. It is supposed to be intellectual, indeed, but tasks that are far from creative often cause awful writer's blocks and burnouts if you understand that such orders are not for you.
When Tutorship is As Creative As You Can Be
This very moment, when my muses were crying all around me, Mark called me, and he actually saved me. You may say I am weird, but the day before I promised myself that teaching would become my main job if a new student called me in 24 hours. The last lesson I taught was very inspiring. My student Emilie is an adherent of Sylvia Plath, so we were reading and translating her poetry, simultaneously immersing in complex grammar structures found in Plath's pieces. I also invented a remarkable task for Emilie – to compose her own poetry, using any words and imagery. I am sure she will be fascinated by this idea. What is wonderful, although I wanted to become an author and creator of artistic works myself, tutorship became one of the most rewarding occupations for me among all the rest of my translation and article writing projects.
I learned to combine my passion for literature and arts with my approaches to educating others. Yet, you are mistaken if you think that I "force" IT specialists into writing poems. My interest in literature is also tightly connected with my fascination with science. Therefore, those students who are endowed with more technical ways of thinking eagerly participate in the discussions about the novelties in robotics, new visions of the Artificial Intelligence evolution, the "miracles" of neuroscience, and stirring scenarios about the state-of-the-art workplaces of the future. Each student of mine works according to elaborated individualized plans, and each new lesson turns into an exciting experience both for me and all those great people I share my knowledge with. With my students, we do not simply study grammar and do usual exercises, we watch insightful videos from TedTalks to meaningful movies, both documentaries and feature films. We discuss diverse topics that are related to both narrowly personal interests and global burning issues. We listen to music and translate lyrics, we read poetry and prose and write down metaphors, similes, pun, and idiomatic expressions. With some of my B2 and C1 students, we even create short fiction and plays. Besides, we read articles of renowned media and we try to be amateur feature authors, inventing our own storylines and expressing unconventional opinions.
I Guess I Found My Perfect Path of Self-Development
I can verily confess that my concentration on individualized methods of tutorship takes more time and efforts. However, this job keeps me elated. Finally, I achieved that long-awaited amalgamation of my creative searches and usefulness for others. These are my personal perks of being an English tutor. Nowadays, this is my favorite job. What is more, some of my students became my friends and now we often visit art galleries and avant-garde music concerts together.
Last but not least, my devotion to tutorship does not hinder me from writing my collection of mystic and science fiction short stories I plan to publish next year. Likewise, I enormously appreciate an opportunity to write for this bona fide detector PlagiarismSearch, where I simultaneously check my works for authenticity.
Now it is raining cats and dogs behind my window, and I am staying dry and chilled in my room satiated with evening shades and specters of inspiration. I am not someone who could be called "Stephen King in a skirt" (maybe not yet), but something whimsical is waiting for itself to be written down. Whenever you read it, I am glad you are here. Sweet dreams or good morning!