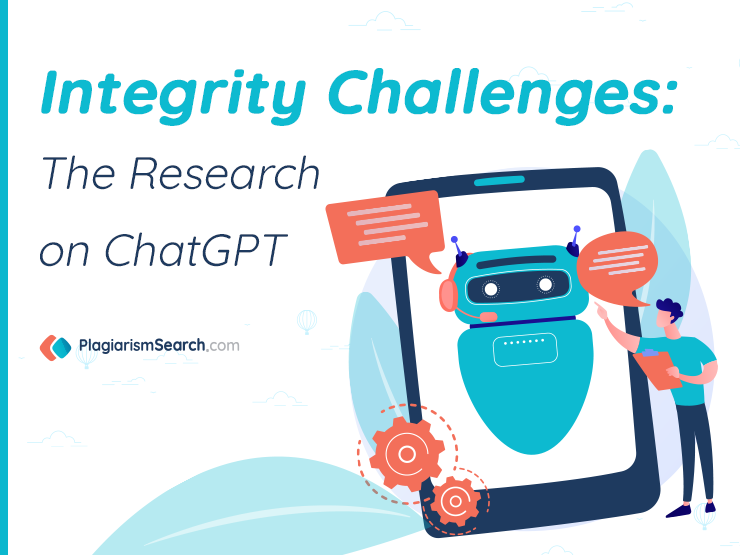 Is ChatGPT a Threat to Academic Honesty?
Can education stay behind when it goes about technical progress? When the whole world is discussing amazing opportunities ChatGPT gives, should schools say 'No' or 'Yes' to progress? Does it make sense to let the students use the help from ChatGPT if it means that they do not do research themselves? On the other hand, can teachers forbid using it? Will it be technically possible to control whether the papers is done without the use of this magic helper? There are so many questions about threats to integrity and prospects of education in general that it is important to do in-depth analysis of all relevant aspects and try to conclude whether the challenges outweigh the advantages progress and artificial intelligence bring into our lives.
ChatGPT and Concerns of Academic Integrity
Going viral, ChatGPT has initiated a lot of concerns related to possible cheating by the students. This powerful program of artificial intelligence emulates human thinking and writing so well that a student may simply ask a machine to complete his tasks and compose essays for school.
Communicating directly with a computer, one can expect precise responses and addressing all specific requests. What does it mean for the school instructors? Even if a research paper is composed by a computer, even the best anti-plagiarism software, such as PlagiarismSearch.com, which is very sensitive to plagiarism of different types, cannot detect cheating.
So, what turns ChatGPT into a threat to school education?
The program is easy to use. It is sufficient to get registered with your login and email and start asking questions to it. Several keywords may be enough to do a project within a few moments. Otherwise, it would take several days of strenuous work from a student to ensure high quality of the project.
It is complicated to trace using it. So far, nobody can see a difference between the task done by a computer and a human output. A student gives some prompts to the program for analysis and gets response really fast. A compilation is done on the basis of using a huge database of the Internet resources without copying. Plagiarism-detection tools are helpless! It is possible to get answers to any questions. A math equation? A literature essay? An IT code? No problem at all! No sign of cheating at all!
Adapting to New Realities in a Modern School
Facing a serious challenge from artificial intelligence, schools cannot but start reacting to it. In some colleges, professors accept using ChatGPT as the cited outside source. In others, school rules state that using ChatGPT is not an academic violation. Feeling incapable of discouraging students from making use of the benefits they can get so easily, professors try to ensure integration of ChatGPT into the class and home assignments. To tell the truth, they have no other way out of the situation! It is not likely that a request from a teacher not to us the AI materials will be accepted by the students. Why would it? Nobody can trace who has actually done the task. Cheating has never been so easy!
Even if the students do not get the entire tasks completed by ChatGPT, they can still get the ready-made elements of certain tasks. Thus, they get results without taking any effort at all! It is so much tempting to look knowledgeable in the completed assignments. Still, the question remains: has a test passed got any value for the student if no actual learning took place? And another one: if it is so easy to get all the answers, why should we spend so much time on learning only a tiny part of knowledge that AI already has?
Does It Make Sense to Appreciate the Potential of ChatGPT at School?
It goes without saying that there should be a fundamental shift in pedagogy with the introduction if ChatGPT in general practice. Can the focus be on collaboration instead of denying the inevitable changes?
What are possible methods of reacting to the use of AI-technologies in education?
punishments for the use of artificial intelligence technologies
establishing communication with the students on the basis of trust
changing the methods of assessment and adapting the curriculum
If the students are supposed to do Math problems during the test, the use of smartphones and calculators is prohibited. So, if now it goes about any writing, it should be possible to change the setting for other exams and tests as well. Staying in class without any devices is one of the possible ways to double check on writing skills.
More than that, if school starts viewing ChatGPT as the basis for new ideas, it can be a great boost of innovations in different spheres. Or can't it? This question may also be added to alist of those which still have no definite answer. The chatbot is still a brand-new tool. It is clear that its possibilities have not been analyzed so far. The only thing which is definitely right is that there are a lot of advantages not learnt yet although the threats are apparent.
Generating quizzes, making comparisons between translations, asking smart questions to the texts are only some of the possibilities of proper use of the chatbot in class. Actually, even a few of them demonstrate great promise if they are used with due care by a specialist ready for innovations and in-depth analysis.
The entire sphere of education is under the impact of AI tools and this is only the beginning. The students of tomorrow will most probably have no similarities with those of the past in terms of the methods they use for learning. ChatGPT is the latest of the tools in a dramatically changing field of innovative technologies, and it is too early to see the whole range of possible uses. This new ecosystem can take any shape now and it is impossible to predict now which improvements will happen. For sure, there are a lot of real uses of this technology and it will make a difference in our lives. Is it a positive change for school? We'll soon see that.