Be original. How to get fresh ideas for your blog?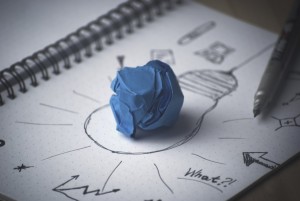 All of us at some point read some blogs, maybe most of us are even subscribed to specific bloggers as it is a convenient way to have access to some interesting reads. As a matter of fact, not only reading some blogs can be interesting and fun, the blogging itself can be can be an engaging activity. There are obviously some people who have no other choice but write articles for the website blog as directed by a manager. But there are bloggers who do it because they actually enjoy the process; some of them even make money on professional blogging. But both categories sooner or later face a common problem: it is very frustrating if one runs out of ideas for a blog. Then writing blog entries can become a torture. However, it doesn't mean that the whole thing cannot be fun again. There are some blog writing tips that could help develop fresh ideas for any blog.
First of all, you can definitely google it up yourself. There are plenty of decent recommendations on how you can make your blog more engaging. There are so many articles that you literally can get lost when trying to figure out what would be the best ideas for your blog. However, there is no need to look for any other place – here you can find the best blogging tips you can ever find online. This article contains the most effective ideas for bloggers that have been tried in a real life by writing experts. We decided to take somewhat universal approach choosing only those ideas that could be relevant for most blogs that we know of. So very likely you can find some good advice here no matter what your blog is all about.
Topics for blogs. Sooner or later bloggers are frustrated because all of the topics they had in their minds have been used. So how does one decide what to write about? This one is pretty obvious and easy – ask your readers. It is always a big plus if you interact and engage with the readers. So why wouldn't one want to ask them what questions they have or what things they want to read about in the blog? Surveying your readers always provides new ideas in regards to the topics for blogs. Besides, you will create an engaging content which is the intention, right?
Interviews. No matter what kind of field you are writing in there are probably some specialist or experts from whom your readers would love to hear something. We all love to read interviews of our favorite athletes or actors. The same thing is with a blog. Find an expert in your industry and interview him or her. It will drive traffic to the blog as well as provide some fresh ideas for the future.
Make it useful. All of readers have problems they have to deal with. We believe there are some that you could help with. This is a great idea: find a common problem that you readers deal with on a regular basis and address the problem in your blog. For example, one could create an engaging tutorial about something that is very valuable for the readers.
Read, read, and read. This has nothing to do with blog writing tips. Instead, this is meant to help you generate your own ideas. You will unlikely find fresh ideas in the books, newspapers or magazines that will be ready for use. However, that's how bloggers come across interesting topics. There many sources for ideas around us and reading is a great tool to extract those ideas from the surrounding world. It just needs a little bit of shaping only.
Factual Content. People life reading about facts. They used to look for interesting statistics and case studies online so why wouldn't you offer them something in your blog? Keep in mind that presenting facts or statistics requires some artistic skills because sheer numbers are no longer that attractive to readers. Nearly all of the blog writing tips you can find out there have one thing in common: they all are supposed to lead to a catchy and visually appealing content. So dress your numbers and facts into a colorful graphics to make it more appealing for the readers.
Pay attention to comments. Usually comments is a great source for fresh blog ideas. You could surf through the comments either on your own blog or similar blogs and we are sure you will be able to find something. Even if you don't find a direct question you would like to address in your next blog entry there is certainly a chance you can detect something that would be interesting for your readers.
With that being said, we all know that these tips are nothing else but rough ideas on how you can make your blog more engaging. It always requires a lot of work but having the aforementioned tools in one's mind can certainly help improve one's blog ranking. So feel free to use these best blogging tips and enjoy the whole process again.